The student government of Orange Coast College will hold elections April 13 through April 17.
For students to better know the candidates, the senatorial hopefuls were asked:
1: What are the three most important characteristics that define you as a leader?  What personal experiences do you have that support these three characteristics?
2: What is one issue that you would focus on while representing the Orange Coast College student body?
Answers listed here are published exactly as they were received and without editing.
---
Khang Do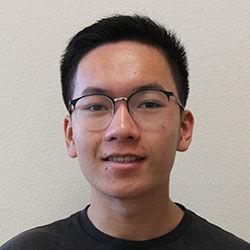 1: The three most important characteristics I possess that define me as a leader are integrity, compassion, and the ability to work well with others. A personal experience that allowed me to express these characteristics was when I was in a club called P.A.L.(Peer Assistance Leadership) in high school. I was able to work with a group of amazing students to plan and host different events at our school. Some events we helped make possible were Special Olympics Soccer, food drives, cookies for Senior Day, etc.
2: One issue I would focus on while representing the OCC student body is the issue regarding safety in the parking lots. I want to advocate for more and better security cameras because of the countless amounts of incidents that happen in the lots. For example, one of my friends' car got scratched, but the school couldn't do anything because there are no cameras near the solar panels. 
---
Aziz Abbasov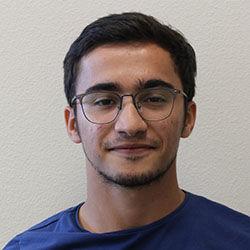 1. I am dedicated, passionate, and responsible. I love representing fellow students and solve their issues. Since high school, I have dedicated myself to student success, and I was able to become successful. I started my leadership experience in high school. I was the student government president since my sophomore year until senior year. During my first semester at OCC, I was the Inter-Club Council Director of Logistics and the Sustainability Committee Vice-Chair. Later during the second semester, I became Student Senator. Thank you for your consideration.
2. I will fight for everything that affects student success. This includes the parking issue, counseling issue, accessibility, homelessness, late-night study hours and more. I believe every one of these issues affects both student life and success. I don't think students who have class at 12 pm should come to school at 8 am just to be able to park, or no student should take any unnecessary class that takes them to the wrong path to transfer. Also, I will fight to change the drop policy. No student should be dropped from class just because they didn't make it to the first day due to illness.
---
David Arroyo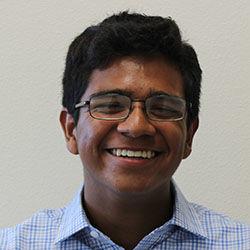 1. The three most important characteristics that define me as a leader are my ability to communicate, plan, and persevere. When I was in band in high school, I was in charge of the trumpet section, and I would constantly have to communicate with the group to identify problems, plan out practice times, and persevere through the long practice times and immaturity from the group I was in charge of.
2. One of the issues that I would focus on while representing the student body is cafeteria food and pricing.
---
Sarah Bennani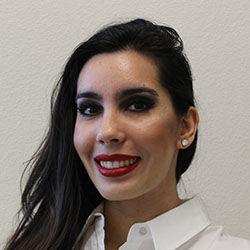 1. Hello, peers. My name is Sarah Bennani. I am running to be a part of the Student Government because I am a natural born leader, and I would like to use my leadership skills to make our campus and our community a better place for all of us! I am extremely confident, relentlessly motivational and eminently empathetic. I was born and raised in Newport Beach, California, but I have lived abroad, in Dubai and Pakistan, for a total of five years. My heart was not used to seeing how unfairly people of low income or little education were treated. They were treated less than human by those more successful and more educated than them. As empathetic as I am, I could not sit by and accept it. I urged those around me to see those people's worth and asked them to start treating people with dignity and respect- no matter who they are. I am motivational. I believe in others and convince them of their potential, even when they can't see it themselves. Earlier this year, a very close and formerly very successful friend of mine was left devastated and depressed after her divorce. It took me six months of visiting her every day to convince her that she could get back on her feet and be successful again and happier than ever before! Lastly, amongst other leadership qualities that I have, I am confident. Even though I am in my twenties, this year I was confident enough to get divorced. Yes, I was so fearful of the uncertain future, but I was also confident that I would be able to pave a path for myself that is even better than what I have imagined so far!
2. As a Student Senator, I will focus on the rise of xenophobia on campus that leads to a lack of possible prevalent inclusivity amongst our students. My mother has her degree in Early Childhood Development, and she raised me to be nice to everyone. I was raised to value and be kind to every person I come across, regardless of their race, gender and socioeconomic background. The lack of inclusivity and rise of xenophobia is a very detrimental problem, in my eyes, and as a representative of the student body I would like to compel, motivate and influence the student body to abandon their xenophobia and become inclusive of their peers for the betterment of ourselves, our campus and our community!
---
Daniela Zhao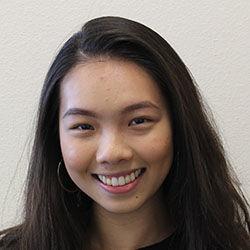 1. I think an important characteristic that defines me as a leader is honesty. I always try to be open with everyone and own up to my mistakes. Being chair of Inter-Club Council (ICC), I have been trying to be as transparent as I can with my officers and my advisor; letting them know that I'm going through a rough time and that I need some time off to rest. I think with honesty also comes humility. I want my officers to know that being president doesn't mean that I can handle everything and that I know everything. So sharing my struggles can help us build a better connection. I think being empathetic and supportive are important qualities as well. Every officer in ICC has a lot on their plate with academic and personal struggles. I try to let them know that it is okay to take a step back sometime and take care of mental health first. I also try to connect with the leaders of other branches and make sure they are doing okay. Lastly, I think I am very detail-oriented, which allows me to make sure events go well. I have always been the type of person that likes to do everything by myself, so being in ICC allows me to learn how to work in teams and trust others to get things done and teaches me about constructive feedback.
2. While representing Orange Coast College student body, I want to focus on changing things internally within student government. I don't think we can do our best if not everyone within SGOCC are on the same page. I think volunteerism within SGOCC officers has been an issue for awhile, which is something I want to work more on. I also think that marketing and outreach to the student body is an issue that needs more attention. I think the different branches are doing the best that they can to reach out to students, but I think with more efforts, we can make a difference.
---
Eric Ceja Ruiz
1. Creativeness, Kindness, and Optimism. Recently, I have made sure to stay actively involved on campus and made sure to promote student involvement all around. As a Student Senator, creativity is needed to find ways to get students involved on campus and overall, find new ways to advocate for the student body. Kindness and optimism are two essential characteristics that everyone should come together and share. I will use the many techniques that I have learned these past few years to bring change and represent the student body so together we reach new milestones because we all deserve to be heard.
2. As a film major and being part of art programs pretty much all my life, I have witnessed the cutback of funds that all of the art departments frequently face. As a Student Senator, I will make sure that every type of art department is given the same and equal representation as any other department. If elected, I will also run for the Sustainability Committee Chair to make sure that the campus is as sustainable as possible and so that we can come together and help the community as a whole.
---
Kevin McDevitt
1. A good leader has good communication skills, shows dedication, and always has a positive attitude. I work as a tutor and have to get my message across every moment I am working. If I didn't, the other student wouldn't learn anything. In the last 12 months, I have not missed one single day of work, even when sick. That is dedication if I've ever heard of it. Lastly, I always try to take a positive view of the situation. Any time my manager's need me at my work because someone else is letting them down, I'm there with no hesitation.
2. My main focus would be on the Coronavirus and helping students stay healthy. I would do this by putting up informative posters and setting up more hand sanitizing stations around campus. People feeling any symptoms of any sickness would have the option to pick up a free mask to prevent others from getting sick. Overall, I just want to help my fellow students get through a frightening time.
---
Stella Tsai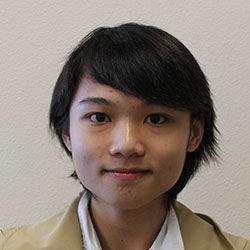 1. I believe my leadership is best characterized by 3 traits: (1) Efficiency, as a leader, I always seek to achieve a goal with the minimum expenditure of time and resources. I always like to get ahead of the schedule and finalize tasks before everyone else and use the extra time to improve on my work. (2) Eclecticism, as an aspiring clinical psychologist, I am more than aware of the importance to listen to people. I value different opinions. I especially like to spend time discussing with people with opposing ideas and try to find a common ground. I am a big fan of Eclecticism, where all the best aspects of every idea/argument is adopted and coalesce into a super idea that everyone come up with. (3) Empiricism, as a leader, whenever it comes to making a decision, I always seek scientific evidence and empirical data to support my policy. I refuse to impose/tolerate personal belief on people and force them to take it. In my leadership, it is always about objectivity and rational assessment of situation, that can withstand the strict scrutiny of the public.
2. My main policy is to "Remove the exclusionary clause" in "Course Repetition Policy". This is a policy that discriminately affects hardworking students who receive "B", "C", or "P". This policy prohibits them from retaking the same class, while allowing students who receive "D","F","WD" to retake the same class for up to 2 times and their new grade will replace the old one. As a result, many students have opted to "manufacture a "F", but intentionally bombing their test, skipping classes... whatever measure it takes for the instructor to give them a "failing grade" so they can retake it. I believe this policy is sick and perverse to the educational values that should be upheld.
---
Kiersten Muse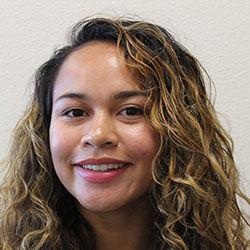 1. My leadership is enthusiastic, focused, and diligent. My experience as an ASOCC Volunteer Team member showed me the importance of leading by example with a clear strategic planning to get work done that benefits the community. Throughout working with ASOCC, I've gained an understanding for the tasks that need to be completed. I have also worked as a female wrestling coach which showcased the importance of motivating people and the grit needed to create a successful environment. I believe that as a student body if we work together, we can accomplish a lot.
2. The Orange Coast College student body is full of various students, but the one common goal that the majority of students have is to transfer to a four-year university. OCC does a great job at preparing students for transfer. I am currently a TOP (Transfer Opportunity Program) student, and I would want to put a heavy push on transfer knowledge/opportunity for students using the information I have acquired within my program.