Orange Coast College sophomore Giselle Quinonez returned to competitive swimming after taking a three-year break following her sophomore year of high school. Being brand new to the swim team at OCC and returning from a global pandemic, the 2022 season was uncertain. This, however, did not stop Quinonez's hardwork and determination in making the best of the situation. 
"Obviously, I'm not the fastest, you know," Quinonez said. "I don't get first every time but I do enjoy it and I like pushing myself and I really like kind of blowing people away."
The 2020 and 2021 CCCAA state meets were canceled due to the COVID-19 pandemic, leaving OCC as the defending 2018 and 2019 CCCAA state champions. With the newly acquired title this season, it makes OCC a threepeat champion, continuing its tenure as California Community College Athletic Association state champions. 
Quinonez comes from a family of competitive athletes, creating the spark that ignited her love for the sport. It started with her father and older brother who also competed in distance running and swimming. 
Her father was a fan of swimming due to the individuality of the sport. "He liked that it was just you. And I like that too," Quinonez said. 
At the age of five, Quinonez began her aquatic journey swimming at local clubs. By the time she was 11, she truly found her competitive hunger. She would swim for Golden West Club and Edison High School.
In high school, she competed and made it to the California Interscholastic Federation constellations, the top 16 spots for state finals. 
"And then, after my sophomore year, I transferred to Coast High School. They don't allow CIF sports, so I couldn't swim there anyways," Quinonez said.
After three years without competing, the love for the sport made her want to test her abilities again. "I wanted to push myself and I know OCC has a really great team and a new facility," Quinonez said.
Quinonez had her first interaction with OCC head swim coach Anthony Lacopetti when she was seen peering through the fence and admiring the newly installed pools. She explained her interest in returning to the water. They exchanged information and she was invited to tryouts in fall 2021. 
Due to COVID-19 then putting a damper on athletics at OCC, Quinonez put off her return until this spring, where she officially joined the swim team. With the new sports facilities, it was an easy choice to test her swimming abilities again. 
At state, Quinonez started with the 500-yard freestyle event, where she was ranked five seconds behind rival Marie Lucquet from West Valley College. Quinonez was the underdog, and aimed to prove that ranking was inaccurate. 
"It was all I was thinking about going into that weekend because it was the first event," Quinonez said. "I just have to beat that girl." 
Quinonez started the 500-yard freestyle where she took first place with a final time of 5:08:67, a whole five seconds faster than the expected winner. This set the tone as she kept that aggressive confidence throughout the competition.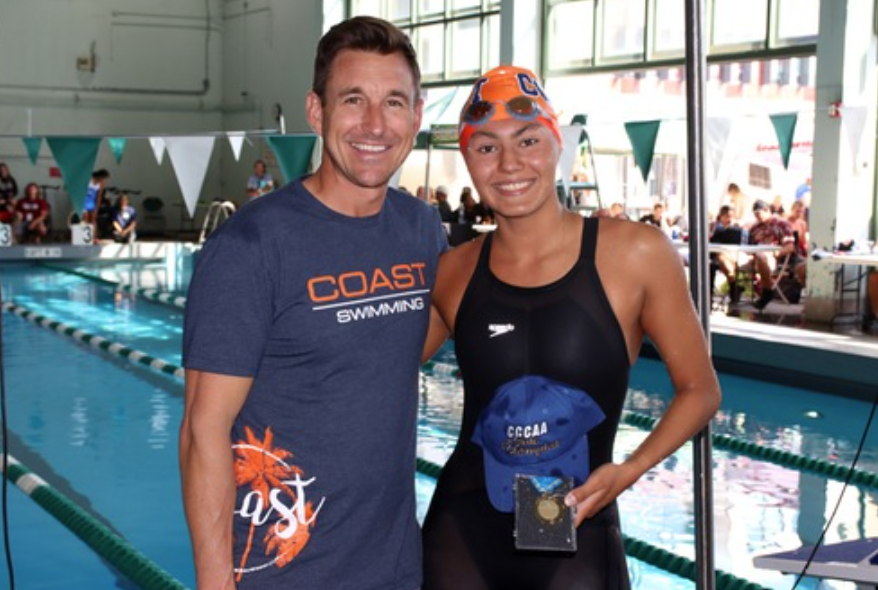 The 1650-yard freestyle event was another easy first place win, as distance is her strong suit. Her final time was 18:05:32, an outstanding 34 seconds faster than the runner-up Faith Tan of Sacramento City College at 18:39:51.
"If you go out strong and you're able to hold it, it's tough to catch up," Lacopetti said. "She gets up on the blocks and she dives in, she goes, takes the lead and doesn't look back."
Over the weekend at State, Quinonez took fourth in the 200-yard freestyle and in the 800-yard freestyle events. As the three day event was coming to an end, OCC ended up taking state with a total of 469 points, beating the runner-up Sierra College by 141.5 points.
Quinonez plans for a return to the team next season to make a bigger splash. She will use this offseason to enhance her overall capabilities, she plans to take up paddling to build her upper body strength, while adding in a lower body routine is also on her to-do list.
With OCC being a threepeat champ, she hopes other students take an interest and check out OCC as their next stop. 
"Definitely come visit us. Come to our facility. Come visit our pool. Come talk to us and our head coach," Quinonez said. "There's definitely a lot of opportunities for people that want to join."