Orange Coast College brought every pair on its roster to Irvine Valley College for the 2022 Orange Empire Conference Pairs Tournament on Wednesday.
The six duos battled teams from all across the conference for an 8-4 record on the day, including one game where two OCC pairs went head-to-head.
"The fact that we still have four teams out of six still in it is exciting," OCC head coach Chuck Cutenese said. "And the number one's and the number two's are guaranteed a regional berth."
Coast's one's: No. 2 seed Brisa Zapata-Reaves/Rachel Blair and No. 6 Alanna Shields/Sophia Sola each advanced to the quarterfinals. Neither team lost a set on the first day of the tournament, and could face each other as soon as the semifinals.
"We've never done this before," Blair said. "We obviously play and practice against each other, but it's never been for competition. So we're just gonna go for it, and I encourage the other team and see what happens."
The afternoon kicked off with play-in rounds, in which two of Coast's pairs fought through to qualify for the tournament. 
No. 39 seed freshmen Emily Payne and Izzy Duchaine rallied for a 2-1 victory against Cypress College. Payne, a libero in indoor volleyball, set up her teammate for plenty of kills at the net. Duchaine caught the Chargers on their heels multiple times in the match with well-calculated touch hits.
"I was just going where they weren't," Duchaine said. "One was really short and one was really deep, so I just went one way or the other."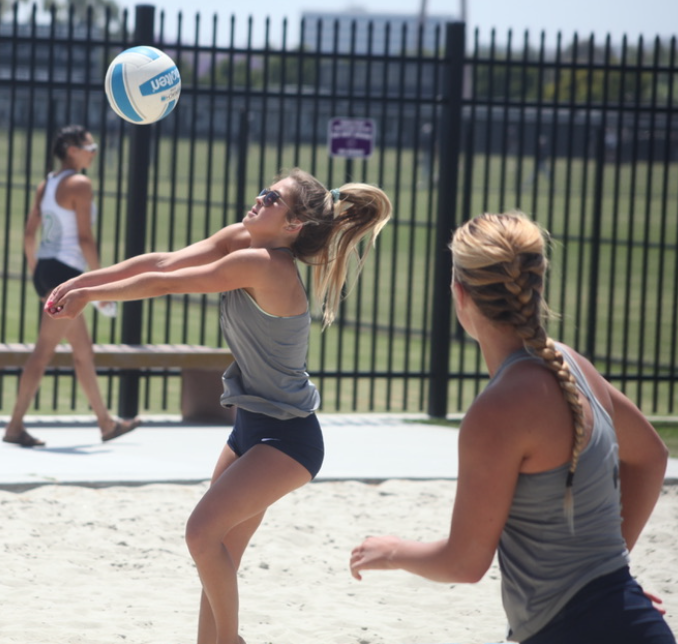 Douchaine/Payne earned the spot to play No. 7 seed IVC freshmen Jolie Rasmussen/Barret Nolan, but were promptly routed 21-9 and 21-7 in the first round.
Rasmussen/Nolan also put an end to No. 23 seed OCC sophomore Lexy Mendoza and freshman Paige Cutwright's run in the second round, with a 2-0 victory.
Prior to the loss, Cutwright/Mendoza upset No. 10 seed Santa Ana College freshmen Kassandra Zavala/Taylor Vagana in two sets. The Pirates duo was very versatile all year in the roles each teammate played, both sharing offensive opportunities at the net.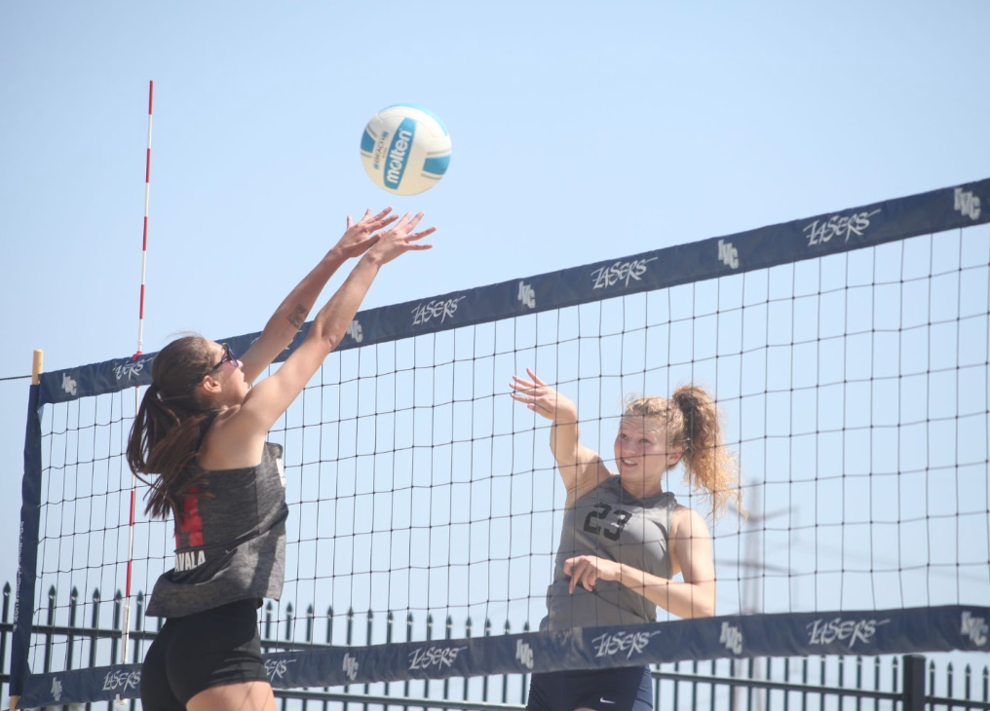 Over in play-in Match C, sophomore Rachel Street and freshman Jadyn Pope escaped a tight match against Fullerton College. The Pirates duo fought to win two sets by a two-point margin: set two 21-19 and set three 17-15.
Before the two victorious sets was a rough 21-10 loss, but Pope said her partner's energy kept them in the game.
"Obviously, it's not fun to lose a set, and I was down on myself," Pope said. "But my partner, she really brought the energy and I think because of her, we won."
Pope and Street celebrated a Round of 32 appearance, but were placed into a match against No. 3 seed Cypress College freshmen pair Tainea Allen/Jordan Wilson. Coast fought to win one set, but were inevitably shot down 2-1 in the first round.
Also in the first round, No. 6 seed Alanna Shields/Sophia Sola knocked out Golden West College's five's representative Paige Phillips/Cassandra Flores 21-6 and 21-12. 
The match played out just like most did against the defensive anchor Sola and hard-hitting Shields this year — with the opponent simply outmatched by the coordination and efficiency of the OCC pair.
"It's communication, but it's also chemistry," Sola said. "I feel like we can read each other's minds because we have that connection playing together for so long."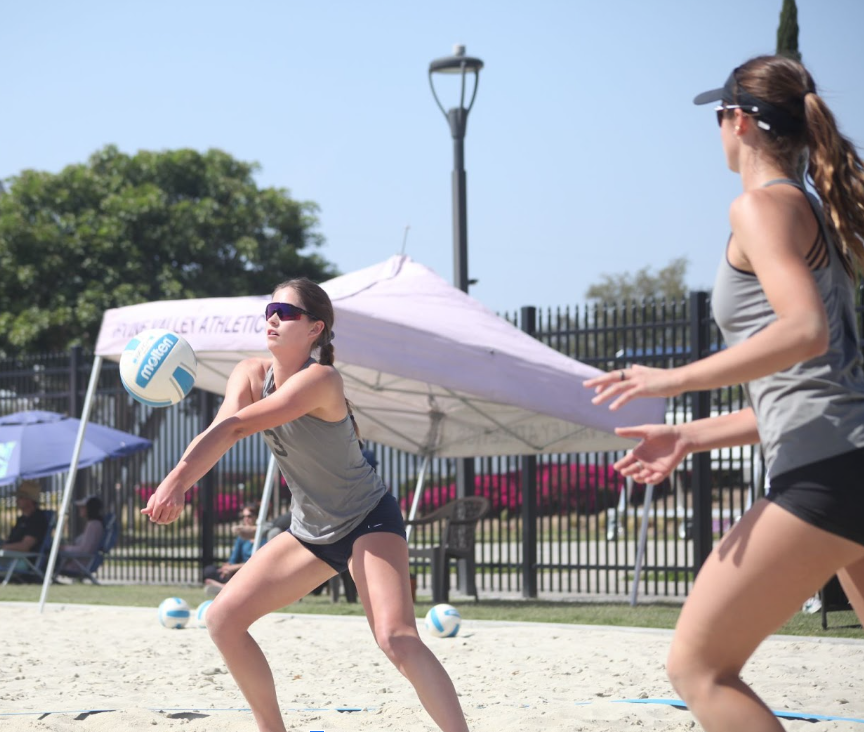 In the Round of 16, Shields/Sola concluded the night with a two-set victory against No. 11 seed GWC freshmen Adriana Morales/Iliana Galindo. OCC's one's await its opponent for the tournament quarterfinals.
No. 15 OCC pair of freshmen Sara Enright and Summer Hanks took out No. 18 seed Cypress freshmen Carolina Urquieta/Rachel Burney in two sets.
With a 21-14 win in set one and 21-18 victory in set two, Hanks became the all-time leader in individual wins in OCC beach volleyball history with 25. The freshman out of Huntington Beach had never lost a match as a Pirate either, another school record.
"I've definitely put a lot of heart and soul into beach volleyball," Hanks said. "It means a lot to have it come out and mean something in actuality."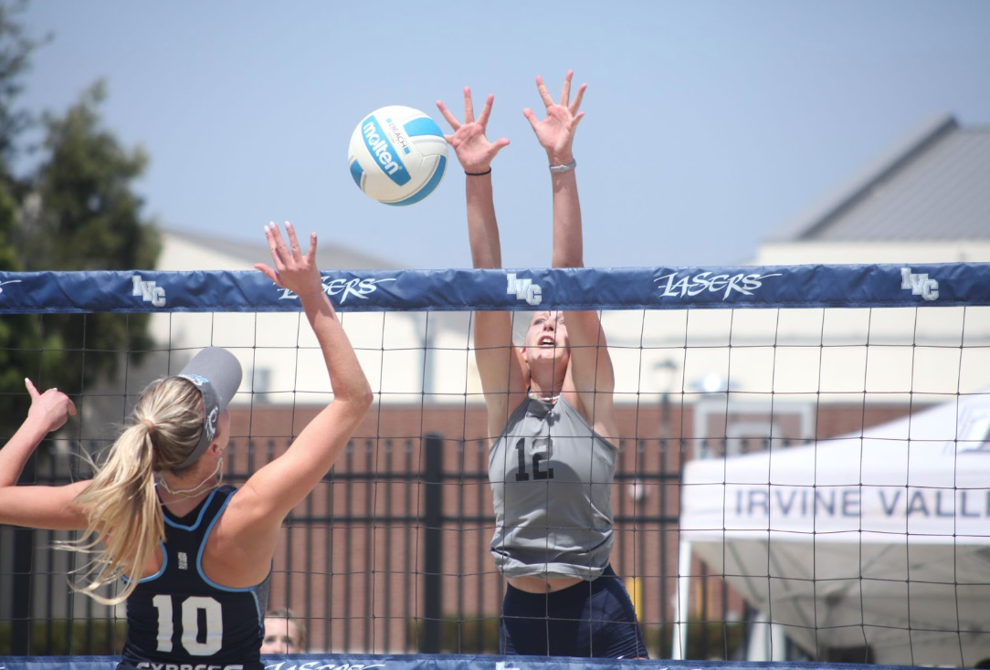 Hanks was the 2021 OEC Pairs Tournament Champion, along with former Pirate Thea Snider. That duo, previously ranked No. 1, defeated its teammates Sara Enright and Alanna Shields in the final round of the tournament.
In this year's tournament, Hanks played alongside Enright against OCC's new top ranked team, tournament No. 2 seed freshmen Brisa Zapata-Reaves and Rachel Blair. The undefeated duo (9-0) received a first-round bye as one's, and was pinned against its teammates in the Round of 32.
Against Cutenese's best wishes, two of his pairs had to fight head-to-head early in the OEC tournament, but the world got to witness a Southern Connecticut State University commit and the OCC all-time wins leader face off against one of the most dominant duos of the year, Zapata-Reaves/Blair.
Hanks being known for dominance at the net, the No. 2 seed OCC team kept the reigning OEC pairs champion and her partner off balance with option hits and overs throughout, eventually leading to a two set victory.
With 21-15 and 21-12 wins in succession, the undefeated pair handed Hanks her first two-year college loss.
"They brought much stronger energy than us and it kind of rattled us in the beginning, but other than that, it was a pretty good game between the two of us," Zapata-Reaves said. "We're pretty confident in our ability and we think we're going to get pretty far, if not win the whole thing."
Blair and Zapata-Reaves will have a chance to avenge two other Coast pairs in their quarterfinal matchup against IVC's Rasmussen/Nolan.
OCC's No. 2 pair used the time from their bye round to scout its competition.
"We assess what their weaknesses are, where they're going and what they're comfortable with," Blair said. "We'll target that, see what's open, and in practice it in warmups."
The Irvine Valley duo even caught the attention of OCC's head coach. Cutenese called Rasmussen/Nolan "the team to beat," given that Rasmussen has four years of experience from indoor competition at Division I University of Hawaii.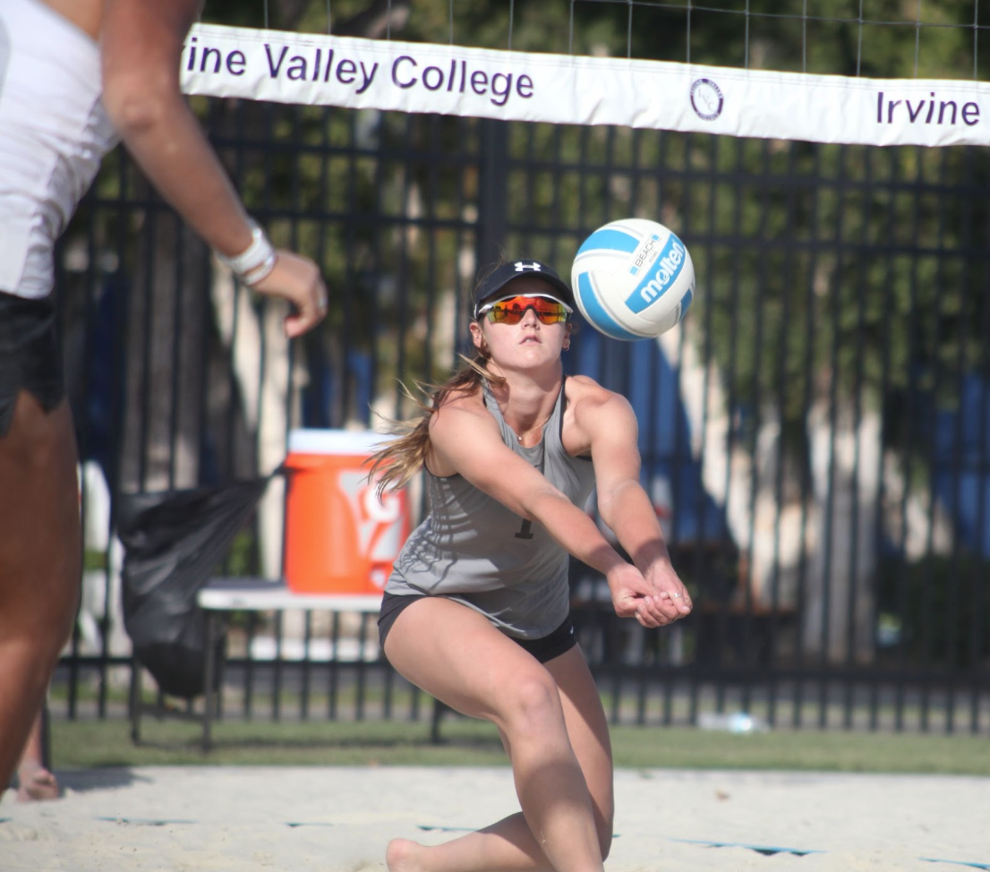 Even though OCC's Cutwright/Mendoza and Enright/Hanks suffered losses on Wednesday, the pairs can claw back into regional playoff contention via the consolation tournament, to begin at 10 a.m. on Friday at IVC.
Concurrent with the consols, the tournament quarterfinals, semifinals and finals will run into Friday afternoon until an OEC pairs champion is crowned.