Whether it's as a powerhouse, title favorite or as an unlikely underdog, the Orange Coast College men's volleyball team has ended both of the last two seasons the same way: defeating Long Beach City College to be crowned state champions. 
On Saturday at El Camino College, the Pirates came from behind to defeat the Vikings 3-2 in the CCCAA State Championship final, securing the ninth state title in program history. 
"For the team to work so hard all year and get a win, it means more than anything to me," OCC head coach Travis Turner said. "That's one of the best wins in my career." 
Heading into their state championship rematch, the No. 1 seed Vikings were winners of 18 straight matches and 48 consecutive sets. Long Beach had handed OCC a pair of 3-1 defeats in their two regular season matchups this season, but the Pirates managed to pull out the win in the biggest game of the year in large part due to a season-high 23-kill performance from sophomore outside hitter Sebastian Lara.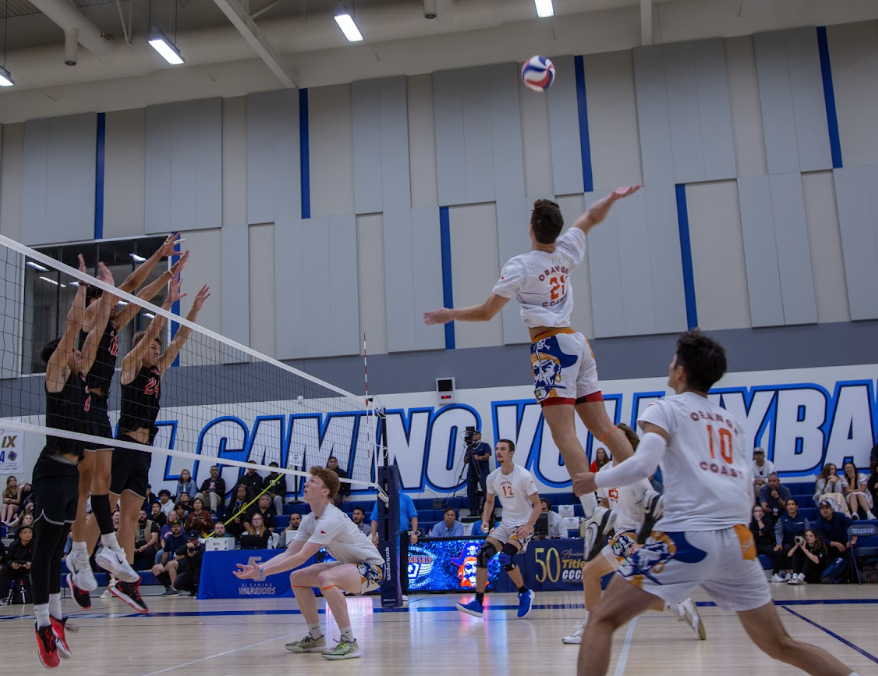 "I think after losing to them twice, we just came out with a chip on our shoulder," Lara said. "We couldn't let it end here and lose a third time, and we came out punching."
Following his clutch performance, the standout sophomore transfer was named CCCAA All-Tournament Most Valuable Player for recording 43 kills with only eight errors en route to leading the Pirates to the state title. 
"It feels great," Lara said. "This is why I came here, to win a championship, and it's been so awesome to work with these guys every single day."
To take the opening set, the Pirates received a huge advantage from the service line thanks to sophomore libero Tyler Vedder, who had two of OCC's five aces in the set. With Lara adding six kills, the Pirates offensive attack proved difficult for the Vikings to handle, as they trailed 21-16 late. 
A 3-0 Long Beach run buoyed by back-to-back kills from freshman Viking opposite Georgi Binev cut into the Pirates' lead, but Coast sophomore outside hitter Hide Nakamura was able to help claim the set 25-23 in OCC's favor with the set point kill. 
In the second set, Lara continued to shine for Coast by tacking on seven more kills, but Long Beach outside hitter Matthew Pennala came alive for the Vikings with seven kills of his own. With the set tied at 5-5 early, the Pirates began to unravel as Pennala engineered a 16-4 run for Long Beach.
"I think it was just passing that we really struggled with," Lara said. "We just had to be collected as a group and because we're all so close we were able to revise and ultimately win."
With Long Beach dominating the set, the Pirates managed to muster up an 8-3 run late, but were unable to overcome their slow start, losing the set 25-17 as the Vikings evened the match at 1-1. 
"We knew we probably weren't going to get the set but we knew we had to push to build something for the next one," Lara said of OCC's attempted comeback in the second.
Back-to-back blocks from Brock Henderson kicked off the pivotal third set, as the sophomore setter served as the catalyst to a solid 5-3 start for OCC. Henderson's hot start in the third helped him lead the team in scoring in the set with four kills and two blocks on a night he also led the team with 32 assists. 
"[Henderson] really steadied out, " Turner said. "He didn't have a great first two sets but played really well in the next three."
However, in similar fashion to the second set, the Vikings quickly unleashed on a 5-0 run, forcing a timeout from the Pirates. Both teams traded runs until the set was tied at 16-16, before Pennala caught fire again for the Vikings, scoring eight kills in the third, including the last three points for Long Beach as they took the set 25-21. 
Following a quiet third set in which he scored just one point, Lara stormed back in the fourth with eight kills to help tie the match at 2-2. With their season on the line, the Pirates held the majority of the fourth set in firm control, as they held a 22-14 lead late. 
"I just realized at that moment that this could be it," Lara said. "This is my last junior college game and I had to go out swinging."
Despite trailing by eight, Pennala just refused to let the Vikings go away in the fourth, scoring five of the next nine points, but freshman outside hitter Myles Henderson scored the set point kill to win it 25-20 and force a fifth and final set. Henderson finished Saturday's championship victory with 12 kills and two aces. 
To complete the comeback victory, OCC had to adjust to limit the scoring outburst from Pennala, who had 26.5 points heading into the tiebreaker set. The Pirates slowed down the 6-foot-4-inch outside hitter by serving directly at him in the fifth set, holding him to just one more kill for the rest of the match. 
"I think we served him really well and it put more pressure on him to have to receive," Turner said. 
Despite falling into a 3-1 hole due to two early service errors, OCC pulled off a crucial 6-1 run to force a Long Beach timeout. Lara scored three of his six kills in the final set during this stretch. 
"Everything we do here in training is to build up for these moments," Vedder said. "When it comes down to the wire, we know how to grind and how to work hard and all of it paying off feels so unreal."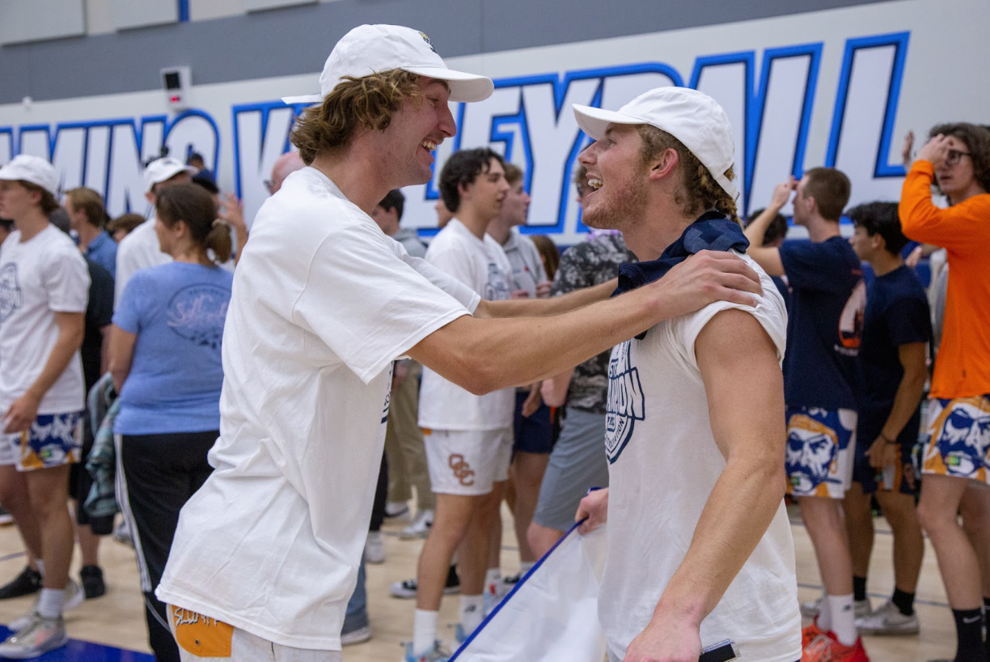 Long Beach battled back for the remainder of the set, as the Pirates narrowly held on to their lead. Coast freshman middle blocker Elgin Liu came up huge with a block and a kill to help maintain OCC's lead, and with the state title in striking distance, Lara and Myles Henderson scored two of the Pirates' last three points to secure back-to-back championships for Orange Coast.  
"They haven't had a battle like that because they have beaten the crap out of people all year," Turner said. "We've been in some tight matches and so I think when it came down to it, we battled more and wanted it more."