After losing the first three games of the season, the Orange Coast College Pirates made a quarterback change Saturday in their win against Santa Monica City College. 
Freshman quarterback Baylor Ayres made his first start this season, taking over for sophomore Brandon Cannella. Ayres led the team to a dominant first win of the season against the Corsairs, as he scored 5 total touchdowns and threw for 205 yards through the air without turning the ball over. 
Ayres landed the job following Cannella's start to the season where he completed just 48% of his passes for 481 yards, three passing touchdowns and three interceptions with a passer rating of 61.2 through the first three games. 
The Pirates first experimented with a potential quarterback change in their week two blowout loss to Santa Barbara City College, where three quarterbacks – Ayres, Cannella and Brandon Johnson all saw playing time for OCC. 
Cannella remained the starter the following week against Grossmont College despite being benched mid-game the week before, and completed 14 of his 28 passes for 189 yards with two touchdowns and one interception in a narrow 31-26 loss. Pirates head coach Bubba Gonzalez denied that the benching was a direct result of Cannella's performance against Grossmont, but Cannella believes it was the catalyst for Ayres receiving the starting nod.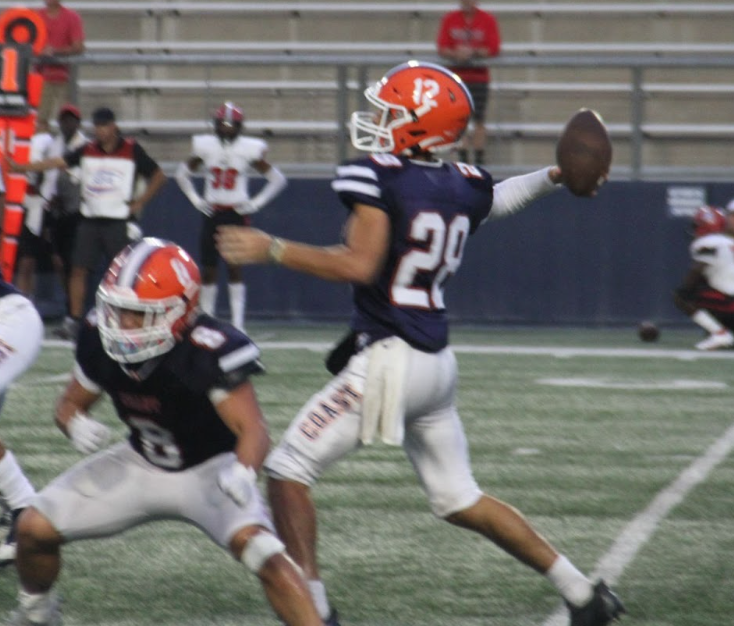 "I was benched for not doing my job that week," Cannella said. "I was telling my running back to stay in the pocket to protect me instead of checking the ball down to him." 
Gonzalez gave Ayres a vote of confidence in earning the starting job, but emphasized that Cannella still has an opportunity to prove himself in practice. 
"Right now it's Baylor's job to lose, but every week of practice is an open competition," Gonzalez said. "We still believe in Brandon and I expect him to show up to practice and get better."
Despite likely backing up Ayres on Saturday, Cannella still expects to have the same leadership role for the Pirates this season. 
"I want to continue to lead my team," Cannella said. "I was selected as a leader for a reason and regardless of my situation, I will continue to be a leader and be ready for the next opportunity to compete for the starting position."
Heading into this week's game, Ayres will look to receive plenty of throwing opportunities in his second start, as Mt. San Jacinto College has allowed exactly 300 passing yards per game this season. 
"They have shown that they are susceptible in the pass game a little bit," Gonzalez said. "So we just need to take advantage of that and be able to seize any opportunities that they're going to give us." 
The 3-1 Mt. San Jacinto Eagles look to be a much more formidable opponent than the winless Corsairs from last week, but Ayres has high expectations for the offense going forward. 
"The offense is confident but not satisfied," Ayres said. "We need to execute this week to carry on the same success."