Orange Coast College biology major Trinh "Isabelle" Phan has been awarded the 2022 Jack Kent Cooke Undergraduate Transfer Scholarship. The scholarship only selects 100 community college students nationally to receive up to $55,000 each, making it extremely competitive. 
Students like Phan, who stand out amongst their peers, are given the scholarship to continue their education at a four-year university. Cooke Scholars will receive financial support as well as advising for college planning. 
"I could not make it without the unconditional love, care, support and even food and supplies from OCC's faculty and staff," Phan said. 
Phan first immigrated to the United States from Vietnam in 2015. She moved to Southern California to be with her husband, an old classmate from middle school who she reconnected with. Phan knew that she wanted to pursue an education, and a young family member encouraged her to choose OCC. 
"He said, 'There's a school near here, OCC, and it's a really great school for transfer.' He was really excited," Phan said. "So I thought, 'okay, let's see if I can make it there.' My English at the time was really really bad. When I got here it was really hard to understand." 
When initially moving to the United States, her in-law's family disapproved of her desire to go to school and thought that she should settle on learning a skill or being a housewife. Due to this tension, Phan and her husband moved out of the bedroom that they stayed in at her in-law's house and decided to be on their own. The only family support that Phan had came from Vietnam. Her husband, Minhthong Nguyen, had just started his career as a Professor at CalState Long Beach, which limited his hours and pay. 
"My husband is really supportive," Phan said. "He said, 'No, she has the ability to learn. She's smart and bright. In Vietnam, she had a good job, and I don't want her to waste her life here.'"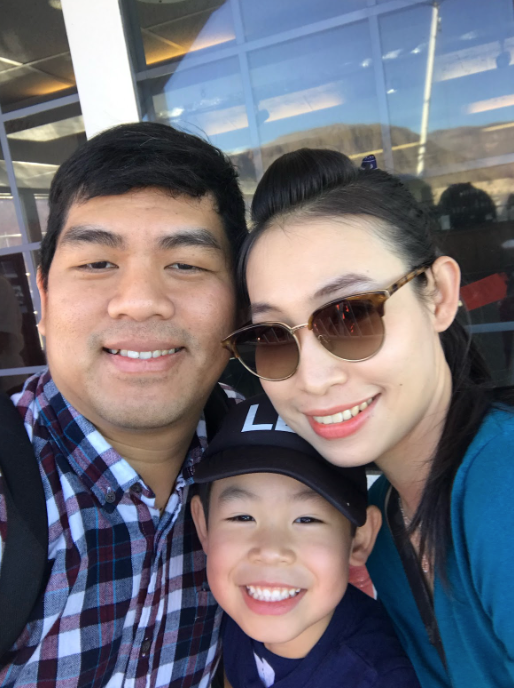 In 2016, Phan and her husband were struggling financially. She wasn't considered a California resident at the time. Her first class at OCC, Psychology A100, cost $1000, which was no easy sacrifice for the family. But together, they decided it would be a step in the right direction and she signed up for the class. 
Shortly after Phan started at OCC, she found out that she was pregnant. 
"I had a very mixed feeling— happy because we didn't expect it, but kind of worried because we were on our own," Phan said. "It was really hard at times." 
In December 2016, the couple was in-between housing while looking for a bigger space to grow their family. During these couple days, Phan and her husband stayed in their car. It was finals week and she remembers studying for her exams in a Walmart parking lot. She would also spend these days going door-to-door asking people to register to vote during the 2016 primaries. 
"Even when I had a big belly, I had to walk like 10 or 12 miles to go to work," Phan said. 
Phan took off a semester from school during the end of her pregnancy and would search food pantries for necessities while her husband worked. She gathered clothes for the baby, books and anything else people would donate. 
When her son was three months old, Phan decided to return to school. Her professor was happy to accommodate her situation and let her bring the baby to class. 
"My classmates really liked him because he never cried or did anything crazy that would distract the students," Phan said. "All of them really loved my baby. And my professor is awesome." 
Phan joined the United States Army Reserves in 2019 where she now serves in a military medical unit. She met her recruiter at OCC and decided that it was a good match.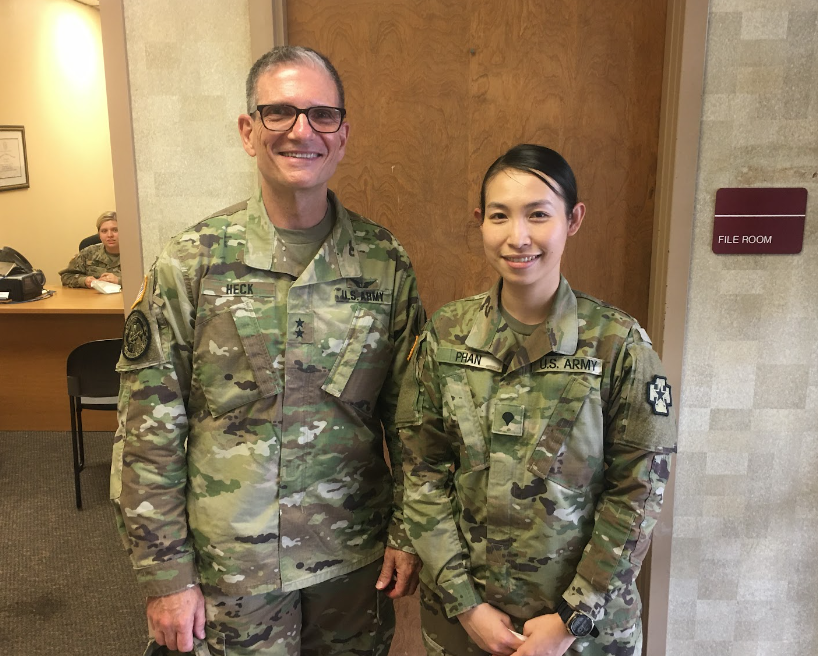 "America is not my birth country, but it has given me and my family a lot. So, I wondered what I could do to pay back the community," Phan said. "I didn't have any ideas about how much the Army was gonna pay me or what benefits I would have if I joined. I joined with my own respect and appreciation for the country." 
Phan attended basic training for 10 weeks where she was away from her family. She credits the Army for both her physical and mental fitness.
"I was really weak when I started," Phan said. "I could not do one pushup. I almost passed out when I did the one-mile run." 
Last summer, Phan attended a humanitarian mission to Corpus Christi, Texas to provide medical care to underserved communities. During the mission, she was designated as the driver because she could not provide any surgical services. 
"Seeing my efforts and knowing that I'm pre-med, the doctor's took all their power to ask the Brigade's Commander to let me take off two days to shadow the doctors," Phan said. "I was highly endorsed by all the doctors and nurses."  
In the fall, Phan plans to transfer to UCLA where she will pursue a degree in molecular and cell biology. She hopes to go to medical school after getting her bachelor's degree and become a military surgeon or doctor. 
The OCC community's support for Isabelle only reinforced that she is well-deserving of this scholarship. 
"Not only does she put in the time and energy to thoroughly comprehend her courses' subject matter, she also gets involved in meaningful activities beyond the course requirements," said Phan's mentor OCC Biology Professor Kelli Elliot. 
Phan has worked on medical missions to aid communities in need, gotten accepted to intern at multiple medical programs, tutored students at OCC and participated in symposium and conference presentations for her research projects. Her actions clearly exhibit her devotion to her education and enthusiasm to lend a helping hand. 
"Isabelle is one of the most dedicated learners I have met in the 20 years I have been an educator," Elliot said. "Being one of her mentors has been an honor and pleasure as she represents the amazing possibilities and opportunities a person can obtain when you have a determined growth mindset to work hard to continually improve despite numerous challenges." 
As Phan continues on her journey, her son and husband remain a strong inspiration to her. She kept a photo of her son in her left arm pocket during basic training as motivation to finish the program as quickly as possible. Her husband built up her confidence in studying, even when she worried about the language barrier when it came to getting a degree. 
"I want to be a better person for my son, so when he grows up, he has no shame for his mommy," Phan said.