Stepping into Orange Coast College's woodshop lab, the space reverberates with the sounds of OCC's seasoned Construction Technology Professor Tim Peters as he preps the room before class starts.
And it starts on time.
"You can't just dilly-dally into class," Peters said as he made his way around the room. "If the syllabus says that we start at 9:35 a.m.— we start at 9:35 a.m."
The emphasis on punctuality is not only a nod toward Peters' former Marine Corps life, but is also a critical life lesson that he stresses to all students who walk into his classroom.  
Within the given time frame, Peters stresses that the discipline of time is a strong virtue, and favors those who use it wisely.
"There are no prodigies in woodworking," Peters said. "You simply have to put the time in to get a good level of understanding of what wood is, an actual material that comes from the earth, and then all the way to working with the tools and machines."
Into "The Dojo"
The students that make their way into "The Dojo," what Peters calls OCC's woodworking lab, range from first-timers who have never touched a woodworking tool to casual hobbyists looking to refine their skills to students participating in OCC's Career Advantage Construction Technology certification program. 
In the 16-week semester, Peters covers basics such as wood as a building material, traditional joinery, fabrication and assembly, machine comprehension, calculating proper measurements, to mention a few, all covered in the three woodworking studies offered: Furniture Making and Design, Cabinetmaking and Introduction to Composite Fabrication.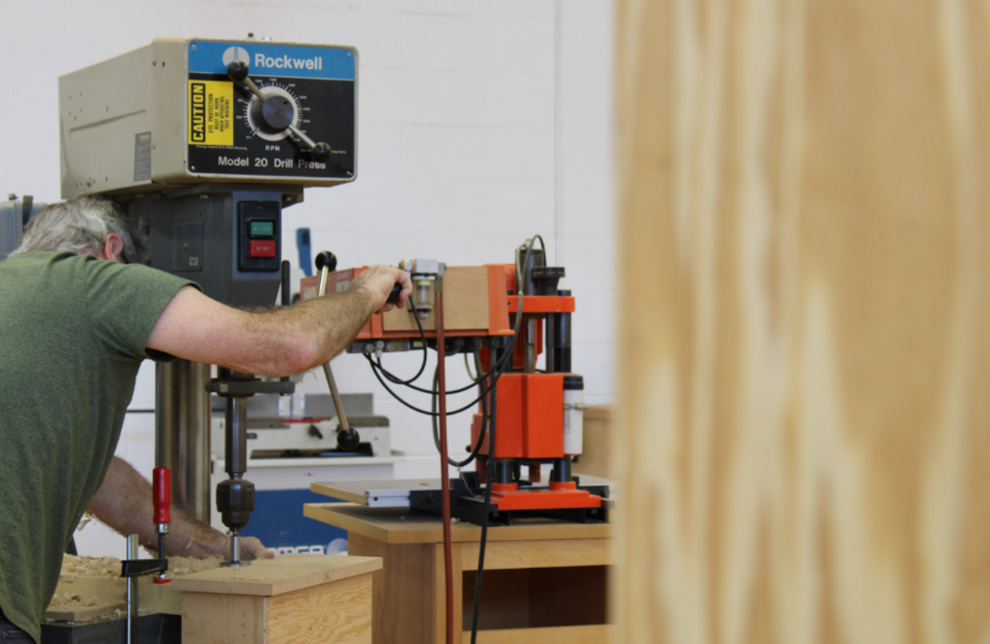 While class is in-session, Milwaukee-branded short tape measures and planks of lumber purchased from the local Austin Hardwood & Hardware scribbled with students' names at the end grains can be spotted across most workbenches. 
Students are eager to challenge themselves, experience and participate in Peters' teaching style – one that is far from traditional and leans more holistic.
Believing in potential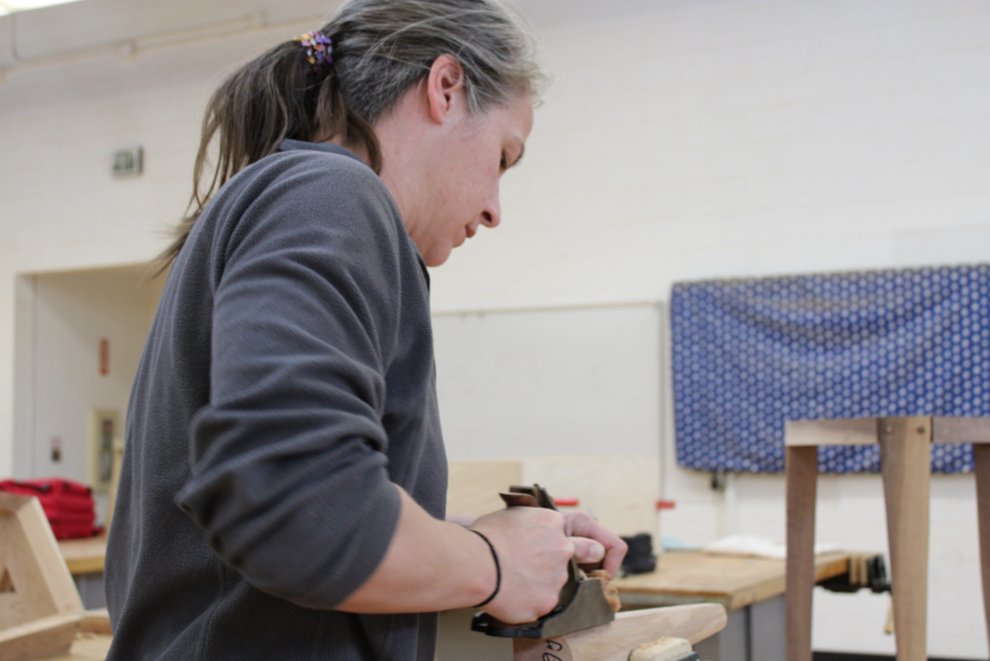 Furniture Design and Making student Catherine Szilagyi, who "junks around in the garage" at home with a tract saw and some hand planes, came to OCC to learn how to do things "the right way." 
"Girls are supposed to do girly things and so it was really frustrating because I wanted to build more, and I wanted to do more, and I was stymied because I didn't have these skills," Szilagyi said. 
"As I'm getting older, I'm still learning skills that boys get to learn really early," she said. "It's just this cultural conversation that we have here in the U.S. that 'women shouldn't' or 'women can't', that's just someone telling me that I can't do something. It's limiting," Szilagyi said. "So that's one of the reasons why I like playing in my garage and taking classes like this, I believe there's literally no reason why this class shouldn't be 50/50 [of men and women]."
It's a kind of sentiment that is shared among the curious where many are exposed to opportunities of personal growth as they near project completion. And there is an overarching sense of self-empowerment among students with the tasks at hand.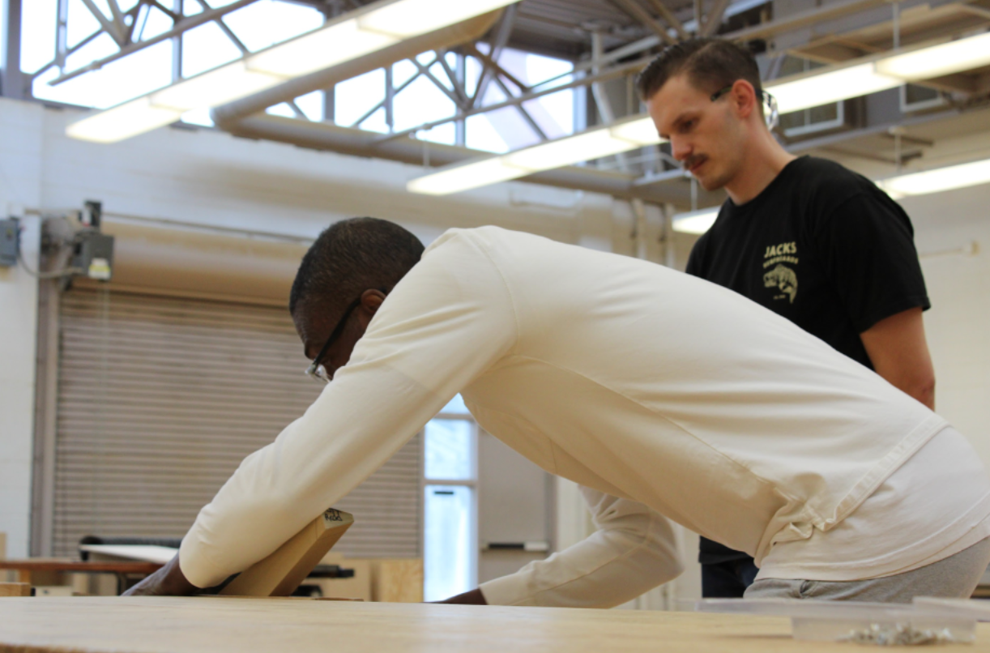 Formerly interested in OCC's Architecture program, Cabinet Making student Bao Huang said, "I wanted to get familiar with the cutting machines, so I chose this class."
His eye for design lends its hand to how he wanted to position the legs of the class sample stool. He experimented by centering his stool's legs beneath the stool seat, instead of joining them at the sides. By seeing different creative opportunities outside the realm of architecture, he also expressed interest in OCC's construction technology program.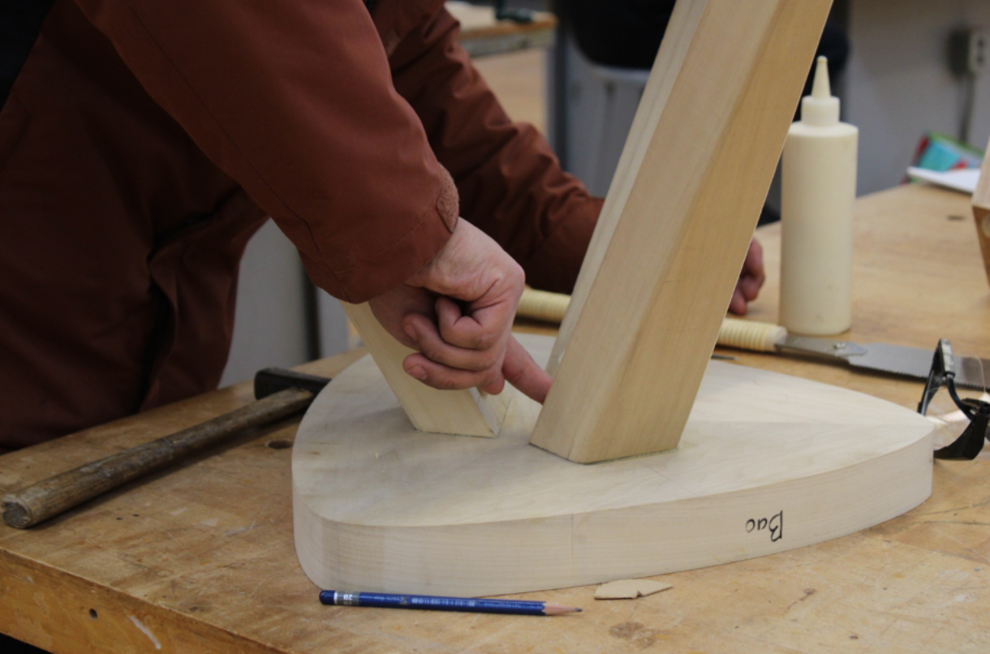 Peters encourages creative expression with the correct fine woodworking knowledge, such as deciding on a finish application in the students' final weeks.
"That's a part of their modules where they'll see some videos with different options. The visual aesthetic is going to be a huge driver," Peters said. "But also, what are going to be the appropriate methods?" which he said is just as crucial. 
There is an allure in the design aesthetic of woodworking, but the builder's rigor and fundamentals are just as significant.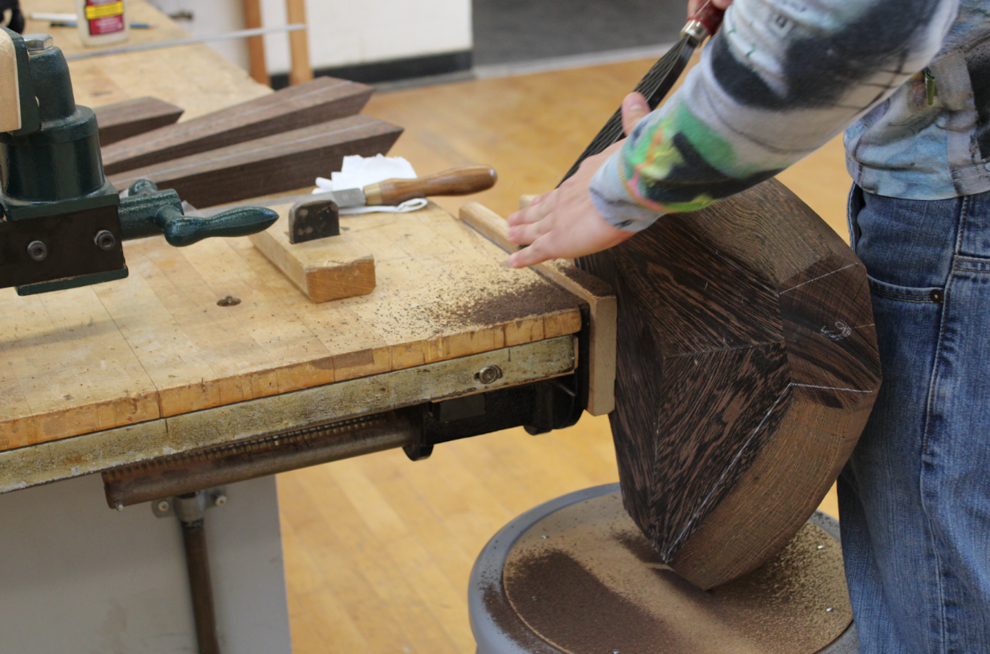 Another measure that Peters diligently underlines is safety. From protective eyewear, appropriate clothing and proper stance, safety is never up for debate and it encourages students to become well-informed crafters. 
"I can possibly reduce any possible safety hazard by just talking about it, but I think the risk of something tragic happening at 20,000 RPM is only matched by the magic that can happen at 20,000 RPM," Peters said.
Many students give raving testimonials about Peters' vigor for teaching and how basic woodworking skills can set themselves up for success in other areas of life.
"He's really wise and has got lots of puns in everything he says," Composite Fabrication student Ben Foxworth said.
Foxworth first heard about the woodworking courses offered at OCC through a friend, and is currently enrolled in the Composite Fabrication class, which marks near completion of all three courses offered by Peters.  Woodworking has kept him engaged and motivated. 
Despite how intimidating the tools and machinery may be, Cabinetmaking student Jennifer Nguyen shares her own goals of becoming a general contractor and the feeling of being self-sufficient in handiwork.
"At first, I was scared of hurting myself," Nguyen said. "But you know what? It's a lot of fun."
And achieving together
Each machine is closely monitored under the watchful eye of Peters. From the crosscut miter saw to a combination square, the pieces of equipment themselves and the patience to execute accuracy demands a level of teamwork.
The attitude of empowerment continues to foster in the collaborative environment inside The Dojo.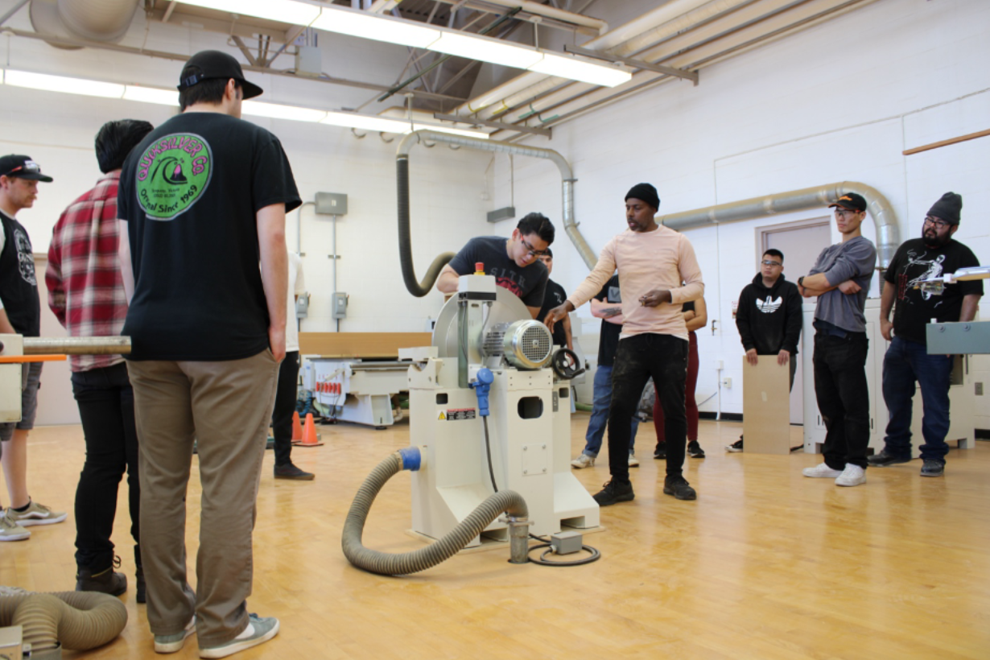 "I know this is just small potatoes when you're looking at big issues in life and death, but I want to do something other than just consume," Peters said, as he's coming up on 23 years in his tenure at OCC. "I want to create a sense of community and a big sense of can-do." 
Peters feels teamwork is taken for granted in woodworking as the opportunity to be immersed in a process of working alongside peers that are hardly shy from assisting one another along the way. 
"You're really encouraged – or maybe even forced by the fact – to be part of a community of makers," Peters said. "You can basically tap into that other resource, which is going to be your teammate. Some take to it like a fish to water, and some never."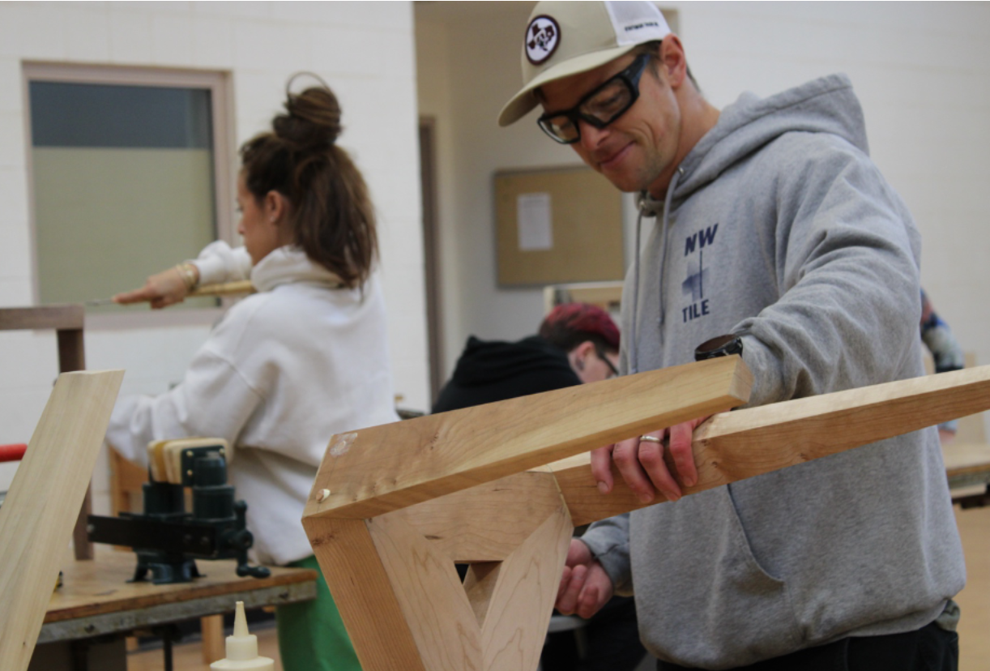 Assume no skill, assume endless possibilities
When Peters first started at the campus in 2000, woodworking at OCC looked a lot different than it does now. Projects then consisted of building a basic four-walled structure with a rear – without shelving and maybe some metal tracks – for 18 weeks.
"There's no substitute in a space where things have to be fabricated. There's no substitute for the muscle memory that comes with doing it," Peters said. "We had it in much smaller pieces in the past, but now it's a much bigger bite."
Introduced this semester, the Composite Fabrication Tech course is separate from OCC's construction technology program and focuses more on "architectural design on a more artistic human scale," Peters said.
Peters thoroughly explains to students the expected class outcome outlining taking composite materials, be it natural or synthetic, and forming the project's shape into a rigid structure, with narrow components to keep it balanced steadily while exponentially increasing the surface areas. After which, students will trace up more pieces, then those pieces to  the disc and crosscut sander and band saw in order to create a butt joint.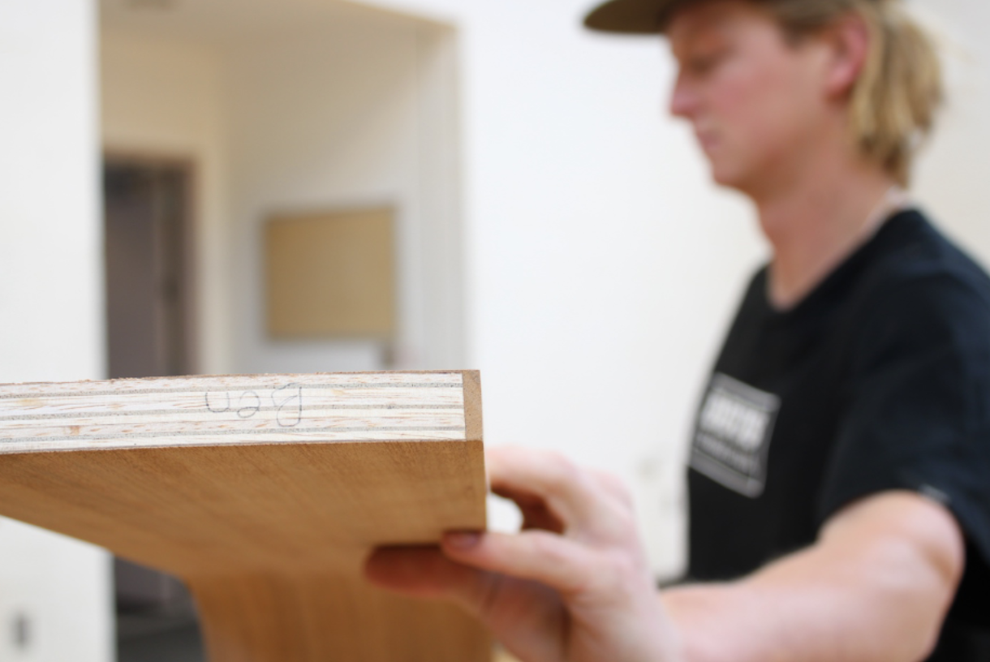 Versed in technical vocabulary of woodworking jargon, Peters said that he will forever remain a student, seizing every opportunity he can to learn more that makes him an active instructor in his craft.
Peters has traveled around the world, from Asia to acquire the basics of Japanese carpentry, to now planning his visit to Germany to meet with makers that handle a different style of fabrication. 
He acknowledges that there's something about what other makers do with materials in diverse climates and altitudes that stimulates his curiosity in making sure he gets to engage hands-on expert knowledge from any part of the world. 
And despite language barriers, Peters believes in a shared language through craftsmanship.
"I assume no skill, but I assume endless possibilities because people are smart," Peters said.
He dedicates himself to lifelong learning by seeking opportunities to grow as a student to become a successful instructor with more new knowledge to impart onto his students every semester. 
"I do understand that some people that leave this class may never build another piece of furniture again in their life. That's just a fact and I'm aware of it," Peters said. "But man oh man, just like a bad clock, sister, every once in a while, things line up just right and somebody comes in and says, 'I think I can do this.' And I have legions of those people."