Vintage clothing has allowed beautiful, one-of-a-kind pieces to be given a second, third or fourth  life. It has given many people creativity with style to let fashion roam in any direction. When people sell or donate old items, they are giving them another chance at life. Helping many express themselves, the clothing matches how unique and one-of-a-kind people are. 
Many people find vintage pieces either online or in stores has inspired others to hunt and shop for their own vintage items. Shopping for second-hand clothing at local thrift stores and flea markets is sustainable, reduces waste, allows you to find high-quality goods at great prices and supports small businesses and the community by getting everyone together, creating bonds, friendships, connections, and more. As of 2021, the global market value of resale clothing items was estimated at $96 billion, according to Forbes.
Apps like Depop, eBay, OfferUp, ThreadUp and more make it easy to shop from your phone for vintage pieces, and the masterminds behind the photos on second-hand shopping apps and flea markets are the sellers that do the hunting for you.
"I started selling and buying vintage items in the summer of 2022," Orange County second-hand reseller Andy Murray said. 
Murray began his brand Rawvtg19 on Instagram because his mom told him to get a job and begin doing something. That something for him was "sourcing and selling vintage goods to people that share the same interests as me," he said. 
Murray started off by selling vintage items. "The first thing that I flipped for a profit was a 10-15 pound amethyst crystal that I found at a garage sale for $100," he said. "After that I was hooked." 
Murray spends his time curating vintage items at thrift stores, garage sales, Facebook marketplace and through people that he has networked within the vintage-selling community. 
Murray expressed the love he has for his job as he gets "to work for myself, spend time with like-minded people as they are all entrepreneurs and connect with my buyers." He said seeing the smiles his customers give due to his product, with the downside being waking up early to set up for the flea markets he attends. 
Starting something new, and not knowing where it will go is scary. Beginning a career in selling Murray said "The fear that I wasn't going to be able to sell the items that I bring out to markets, but once the markets start, I remember to myself why I'm doing this and I just have fun with it." 
When going to thrift stores and flea markets, finding the best vintage pieces and working with every product bought to your own style is self expression. "Vintage [items] are the best way to explore personal style if you want to be unique and stand out from the rest,"  Murray said. "People buy from vintage sellers because they want to stand out from the crowd, it's sustainable for our planet, and the quality is much better." 
Trying to find to get into the vintage selling community "network with people that have the same interests because most of the time the stuff that I have in my inventory is because of tips and tricks that I've learned along the way," Murray said. Going to flea markets around the area and talking with vendors about how they started can help, asking for advice is a great way to begin.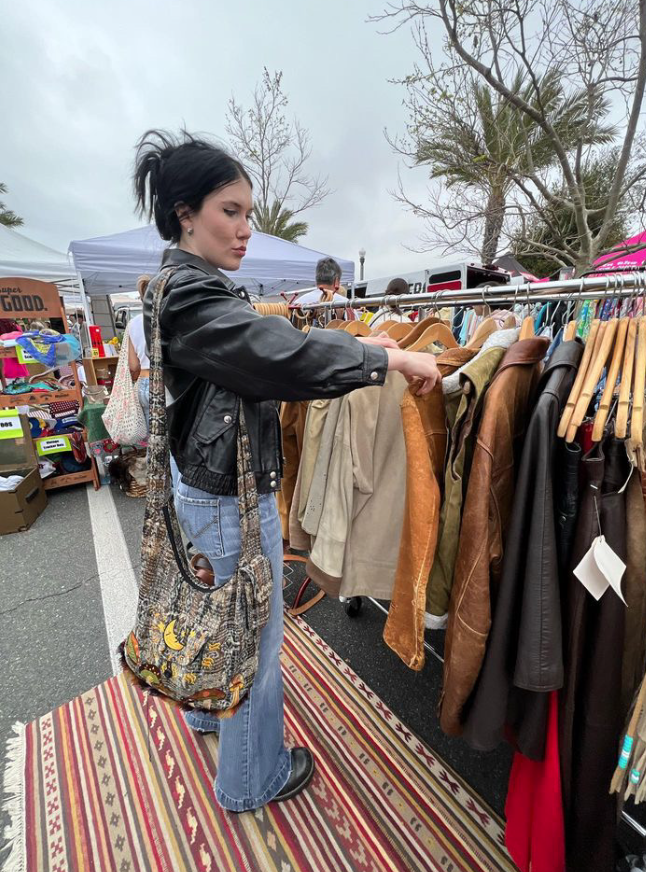 Gracie Costlow, who owns Vintage Moon Co., started her brand in 2022, selling at flea markets, selling on Depop at graciekay12 and being active on her eBay account vintagemoon_co. 
"Ever since I was little, my momma and I always went thrifting to find clothes we love and wanted to feel more unique," Costlow said. Grasping the idea of second-hand items at a very young age Costlow carries it on until this day. 
When she began selling vintage pieces it was because of her "love for old things, music, style and look," she said. With the knowledge that nobody will gather as well as own the items she gets or decides to sell. 
During the summer 2022, Costlow and her boyfriend capitalized on their passion for vintage items, making it their living as they both wanted to own their own business. 
"I personally spend at least four days of the week in person by going to thrift stores, and then whenever I have free or down time in my day, I'll look online for wholesale vintage items," Costlow said. 
Costlow loves being her own boss. She is able to decide when she wants to work, where she looks for her items, who she does it with and the road trips that come along with wanting to find the best out there. "It's always an adventure and fun date with my boyfriend when sourcing items, as well as feeding my passion," she said. 
Costlow said that she has met so many wonderful people through the vintage-selling community, that every flea market she has been to has taught her something new and has helped her grow her brand. She expressed that she is doing what she loves to do and is able to share her love for old clothes with others. 
"My vintage clothing isn't for every person and that's okay," Costlow said. " In the beginning, I used to get so self-conscious that people weren't going to like my clothing but by my first market it proved myself wrong," Costlow said. 
By buying a vintage item "you are supporting someone's dream, just by looking at their pieces, you are helping them," Costlow said. "It's truly such a sweet experience for both." 
Shopping at thrift stores, and flea markets help the environment as "a regular store usually has mass produced clothing that isn't the best quality nowadays but buying a better quality product from a vintage reseller, you are helping the planet by shopping sustainably, filling your closet with unique pieces that you can't find anywhere else anymore," Costlow said. 
"Vintage shopping is so popular now because it's an activity that you are able to do with friends, shopping from all sorts of different types of sellers. It's an energy exchange while also being so fun, old clothing is timeless, it's a timeless love from sick clothing," Costlow said.
Getting into the vintage seller community can be tricky "make connections, be consistent, be proud of your work and just keep going," Costlow said.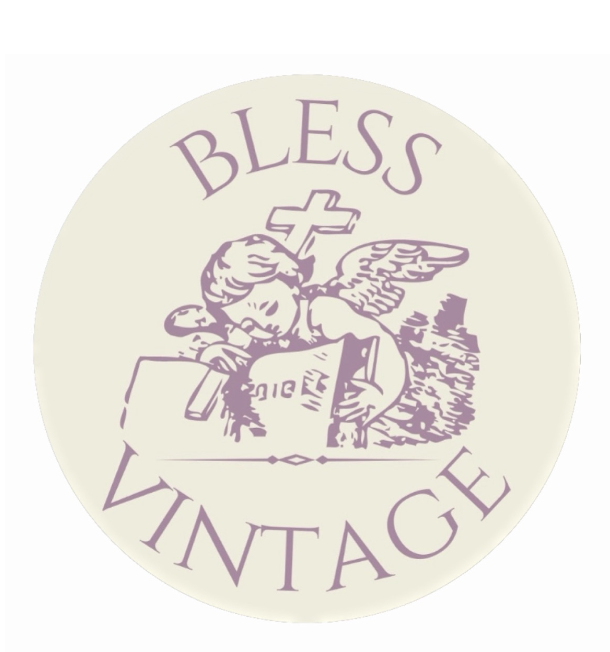 Dani Bless, an Orange County resident, started her brand Bless Vintage back in 2020. "I fell in love with sustainable fashion and my ability to source pieces that no one else had. Also, I was able to create new looks from rare finds. It's a way to truly feel creative and expressive. It felt freeing," Bless said. 
Selling on Depop at bless_vintage, her Instagram at bless_vtg as well as creating her own website blessvintage.com
Bless spends the most of her days scavenging new thrift stores as far as Santa Barbara and  through all of Orange County. Spending up to 60-70 hours a week being that everywhere she travels she makes it a mission to source a new thrift store to get the best pieces for her brand. 
"It's just so unique and it forces you to take time and thought into what you're purchasing. Slow fashion is more likely to stay in your wardrobe, just made better and looks better. We also love keeping it green," Bless said.
"We all crave a personal style,"Bless said. "There's something so empowering about picking out a vintage piece whether you sourced it yourself, or someone else did for you. It's thoughtful, and it's fun" Bless said. 
Each seller has their differences and similarities with their struggles, "trying to promote myself on social media" has been Bless's main struggle. "I want everything to be perfect and my constant strive for perfection can cause me to miss out on opportunities." Bless said. 
"If you make connections and constantly promote yourself, there's absolutely no way you can fail," Bless said. "It's just like everything else in life – hard work."