As COVID-19 cases and hospitalizations continue on a downward trend, Orange County is hovering at the precipice of the red tier.  If the current case counts hold until Sunday, the county will be in the clear to allow some easing of restrictions on local businesses. 
As of March 9, Orange County had a rate of six cases per 100,000 residents, down from last week's 7.6. If that number holds until Sunday, retail businesses will be permitted to transition to 50% indoor capacity and restaurants to 25% indoor capacity. Grocery stores will be able to operate at 100% indoor capacity.
At most businesses, the impact of the pandemic has been visible since last March when retail businesses were forced to close temporarily. In December, retail capacity was reduced to 20%. It is currently at 25%. 
One notable exception is Costa Mesa's Anti-Mall - also known as "The Lab." With its mixed-use, indoor-outdoor environment, The Lab was well situated to adapt to the challenges brought on by the pandemic. Although it's restaurants and bars have taken a hit and its retailers had to modify some normal business practices, overall, The Lab has fared quite well.
On March 5, The Lab had a relaxed-but-steady flow of visitors, some strolling with their pets, others enjoying the sunny outdoor seating and free Wi-Fi. Shoppers thumbed through records at Creme Tangerine Records – an airstream trailer turned record shop – and a man sitting in the corner quietly sketched the unfolding scene.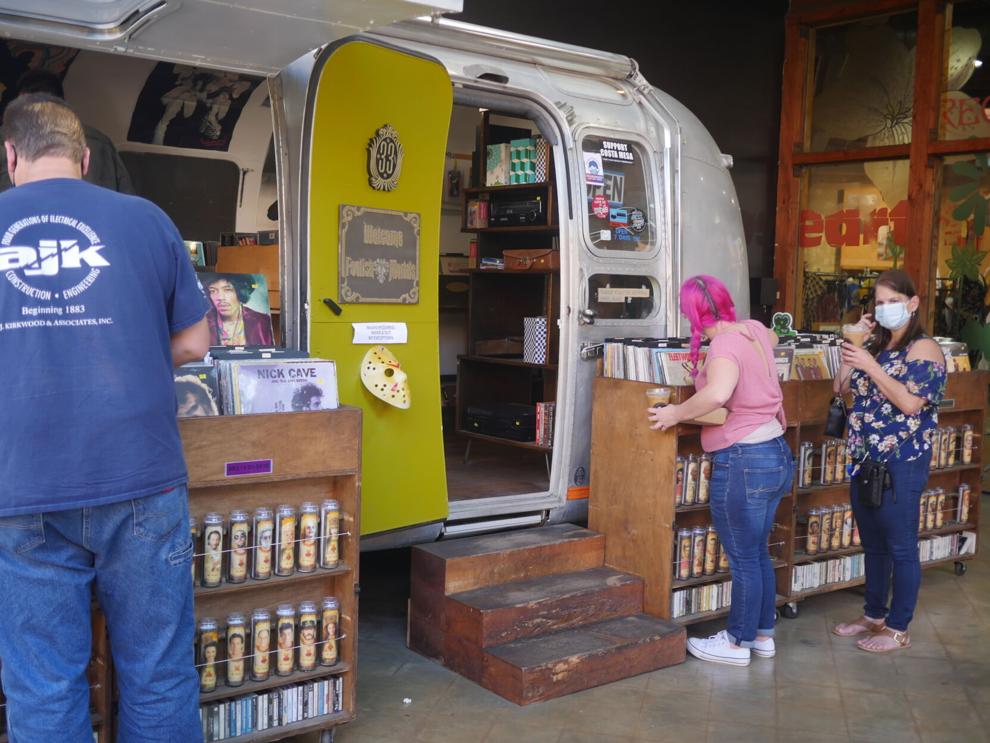 With all the havoc that the pandemic has had on people's lives, The Lab has offered people a safe haven that provided some semblance of Southern California normalcy in spite of the restrictions imposed by social distancing and the preventative safety measures mandated by the state. 
However, the most visible exception to normalcy was evident in the complex's several restaurants. 
The Den Cafe of OC
At The Den Café of OC, a lone employee, Brandon Peterson, served as barista, bartender, server and take-out coordinator all at once. 
"We're operating with a skeleton crew, a lot of times it's just me here by myself, no matter what," Peterson said. 
He hopes that when the county moves back into the red tier that it will have a stabilizing effect on the flow of business.
"No one's going to hire on new people if they are going to have a dead day. People don't have the resources for that," Peterson said. 
With the business shifting to a heavily take-out-driven model, while still maintaining it's storefront operation and delivering to the other businesses within The Lab, things can get pretty stressful at times for the employees picking up the extra workload.
"It would just be nice to get some support again," Peterson said. 
Ruin Bar
Business traffic during the pandemic has been unpredictable. Nicole Holguin, a bartender and the creator of the craft cocktail program at Ruin Bar, The Lab's speakeasy-catacomb-esque bar, said that though they were lucky to be able to get some additional outdoor seating space approved through the California Department of Alcoholic Beverage Control (ABC). Every Friday and Saturday night there is a waiting list.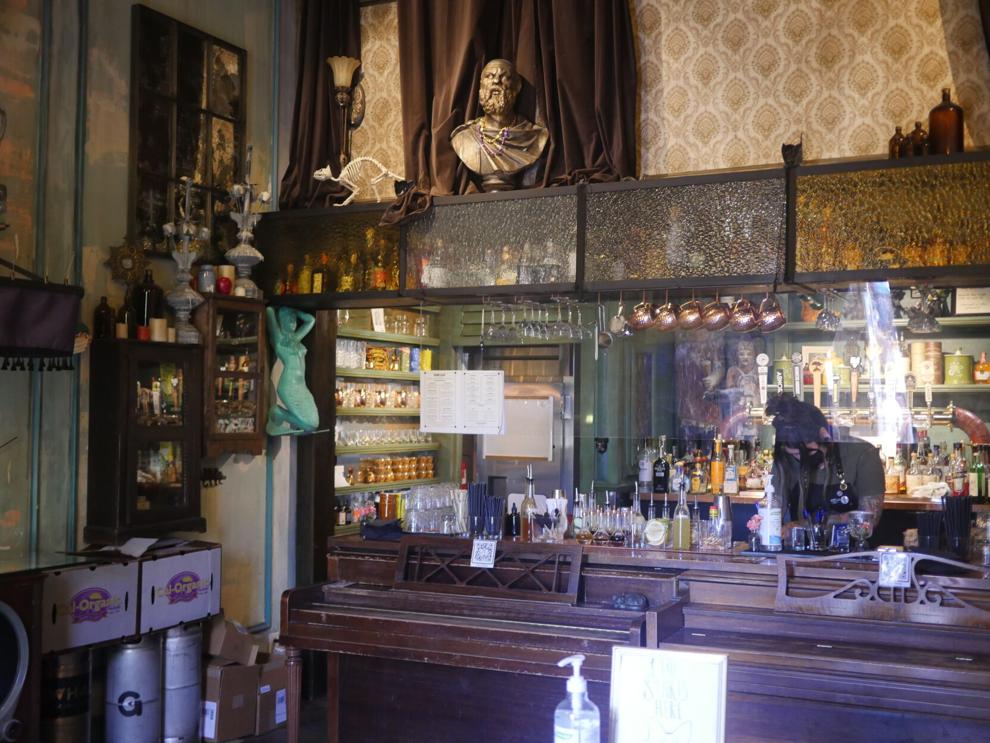 "If we are able to go back to 100% capacity, I definitely think that our sales are going to skyrocket," Holguin said.
Ruin Bar managed to keep its small staff of five employed through the pandemic. Even though business slowed, they realized that they needed to add a host position in order to coordinate the new rules and ensure that the operation flowed smoothly.  Now all of the bartenders take turns playing host once per week. 
"We were grateful to be able to kind of split up the schedule. I mean, we all did get less hours, but we were able to keep everyone," Holguin said.
Ruin Bar also serves as the watering hole of choice to many of the apartments surrounding The Lab, so having a strong following has helped the establishment hold its own during the pandemic.
Sun Dressed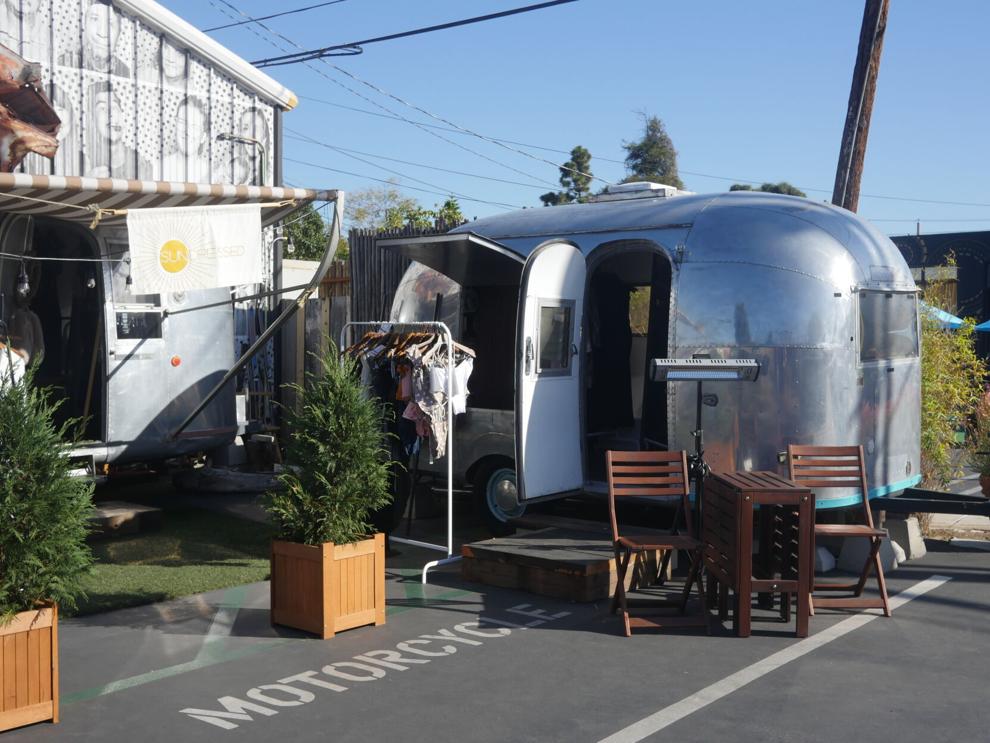 In the middle of the parking lot that connects The Lab to the threshold of the brewery sits a little owner-operated airstream boutique called "Sun Dressed." With it's unique indoor-outdoor airstream trailer, Sun Dressed is able to offer the use of a dressing room, unlike the majority of chain retail stores that have had their dressing rooms closed to the public since last April.
Unlike many businesses that have not fared well through the pandemic, Sun Dressed was actually born of and inspired by the pandemic. 
Tanya Blomquist, the owner and an interior designer by trade, conceived of the idea last April when every single designer in her company was laid off. As they say, necessity is the mother of invention, and with the lifestyle changes that came with the pandemic, Blomquist saw the need to provide clothing that was soft enough to lounge in, but cute enough to go out in, while still being affordable. She opened on Sept. 1, in the middle of the pandemic. 
"If it wasn't for this Airstream, I would not have opened. If it was a brick-and-mortar place, I would have never opened. It would not have been possible without all this open air," she said. "After people try things, I've got a little steamer and I steam my stuff, but there's so much sun to just air things – so my clothes are pretty much out all day and there's just not a lot of places that have the ability to do that."
Although the concept was tailor made for life during a pandemic, Blomquist noted how much her business relies on traffic from the surrounding restaurants and bars. 
"I would say Jan. 6 is when there was a huge decline. I think people got really nervous being out, so the restaurants here closed," Blomquist said "If they're closed, then I don't get a lot of traffic. So yeah, I was definitely affected by the purple tier."
The Lab offered the perfect antidote to many of the restrictions that have been imposed on daily life during the pandemic. Other area businesses that did not have the luxury of built-in outdoor space had to quickly pivot and adapt to the executive order that required all bars, breweries and wineries to close and restaurants to offer take-out or delivery only.
Phillip Dipietro, owner of Pizza D'Oro in Costa Mesa, and a graduate of Orange Coast College, said that in the beginning of the pandemic, he was so worried that restaurants were going to be completely closed altogether that he was getting ready to start selling off his perishable items.  
"I shifted gears right away. I went right into curbside, and we started bleaching our pens and buying crazy amounts of gloves, which were very difficult to get your hands on," Dipietro said. 
Pizza D'Oro is a family-owned-and-operated business that has been in Costa Mesa since 1977. Thanks to their long standing in the community, the business was able to transition to an entirely take-out model without too much difficulty. 
"I actually ended up having to hire more people as the year progressed," Dipietro said.  "I joke with two of my servers that they've never seen the restaurant with a dining room, because I hired them back in November and that was right after the last in-house dining shut down." 
Once the county returns to the red tier, Dipietro will be able to offer indoor dining at three tables, due to the spacing requirements and a recent remodel that took the indoor dining room down to just ten tables. 
"It will be nice to be able to talk to people again. I mean, it's really hard.  It's hard enough talking to people with masks on, but man, you have that thick piece of plastic between you and the customer plus everyone's wearing masks, it's very hard to carry on a conversation," Dipietro said. "My staff is still going to be wearing masks, when we're doing dine-in, but it's a lot easier when you're in front of the person."
Customers have been asking when they are going to open up again and are eagerly awaiting the changes to come once the county re-enters the less restrictive red tier. For now, the business is keeping a watchful eye on the county's numbers and preparing for the long- awaited return to a slice of normalcy.
"That's a big part of dining out – a lot of people want to connect, to socialize," Dipietro said.  "We offer curbside service but a lot of them [the customers], just want to come into the restaurant and talk to somebody."