California Coastal Commission's annual Coastal Cleanup Day was on Sept. 18 and volunteers gathered all along Orange County's coasts to pick up trash at their local beaches from 9 a.m. to 12 p.m..
Orange County Coastkeeper, an organization that has been protecting OC's clean ocean water since 1999, arranged for more than 30 sites in the county to participate in it's sixth annual Coastal Cleanup Day on Sept. 18. This year's theme for the event was "Protect Your Happy Place" meaning that in order for residents to continue enjoying OC's beaches, they must clean up harmful pollutants such as debris and plastic.
Coastal Cleanup Day is important specifically because beach cleanups stand as the last opportunity to prevent trash that has traveled to the coast from inland communities from entering the ocean. 
"We do public outreach as well to make sure that people are educated [on the fact] that all of our storm drains lead to the ocean. So it's really important that we do our part, that we don't litter and we don't dispose of anything illegally," said Michelle Galvus, an Environmental Specialist for Huntington Beach who was working at the site located at Huntington City Beach on Saturday. 
Attendees were encouraged to bring their own reusable bag or bucket to pick up on Saturday, and these materials were provided at the sites for those in need of the supplies. Gloves, trash pickers, water, "Keep HB Blue" magnets and a coupon for free guacamole and chips from Rubio's were also being handed out to volunteers. 
Along with attending the event at one of the many sites, OC Coastkeeper encourages those who are interested in cleaning up regularly to use the Clean Swell app. The app can be easily downloaded on any iPhone or Android, and is meant to track each piece of garbage that users pick up. Some who attended Coastal Cleanup day also used the app instead of the data cards provided at the sites. 
"That data – along with location tracking data so you can see how many miles of the beach you may have cleaned – gets added to the international database. That information is what policymakers are able to use today." said Suzanne Welsh, OC Coastkeeper's volunteer coordinator since February 2020.
Although the event wasn't held during the onset of the pandemic, 1,262 pounds of trash was removed by 276 volunteers who used the Clean Swell app during September 2020. Prior to the pandemic, 70,485 pounds of trash was collected by more than 7,000 volunteers in 2019 during the three hours of the event.
"Everyone did a great job when last year was very challenging," Welsh said.
Coastal Cleanup Day also allows for larger items to be removed from the beaches. A six-foot tarp buried underneath the sand, a mattress and boat buoys are just a few of these random materials from past years that required multiple helping hands. 
"The great thing about Coastal Cleanup day is that you can get these large groups of people making big impacts," Welsh said.
OC Coastkeeper also highlights that preventing marine life from ingesting even the smallest plastic materials is crucial to maintaining a healthy ocean. 
"These plastics break down really, really easily with UV light, and they are able to be so small that smaller organisms are eating them at increasingly greater rates. And when they're pulling fish out of the ocean that are big, they've eaten a lot of small fish,"  Welsh said. 
Groups from other volunteer organizations, such as the Assistance League of Anaheim, came together to make an impact at the site stationed on the boardwalk at Beach Boulevard and Pacific Coast Highway on Huntington City Beach.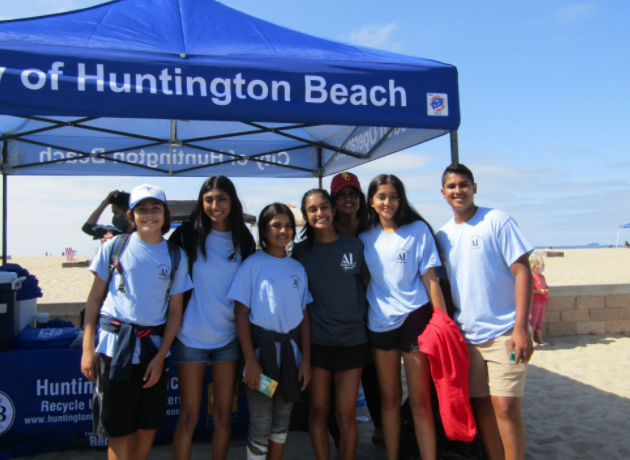 "It makes you feel good that you're doing something for the community, and it's fun with all of my friends in the group. We all just have a good time." said 15-year-old Gia Patel, who has been a member of Anaheim's Assistance League for three years. 
OC Coastkeeper is a part of the International Waterkeeper Alliance, and the organization's website states they're the largest and fastest growing nonprofit solely focused on clean water in over 45 countries. For more details about the International Waterkeeper Alliance, visit their designated webpage.
OC Coastkeeper also holds routine cleanups on the first and second Saturday each month. The organization's website has more information on these cleanups, along with data collected from the Clean Swell app. 
"It's a global effort that doesn't happen unless we commit to making a difference locally." said Garry Brown, OC Coastkeeper's president and founder.