Japan Fair, the largest Japanese cultural festival in Southern California, was held at the Orange County Fairgrounds Oct. 15-17. 
People flocked from all over to Costa Mesa to experience this immersive and informative event. Japan Fair aims to educate the general public about both traditional and modern Japanese culture. 
Japan Fair first began in 2009, and according to event coordinator Masa Taguchi, is growing every year. 
"The fair began as a one-day event on Saturday, it's gotten so big that it's now a three-day event extending into both the day and night time," Taguchi said. 
This year's theme was "The Skills of Japan." The theme was specially chosen by Taguchi keeping in mind those who weren't able to travel to Japan because of COVID-19 travel restrictions. 
"Most people couldn't leave or travel this year," Taguchi said. "This theme was special as we wanted to showcase Japanese culture to those who were stuck at home." 
The event was split into three main areas: food, vendors and live entertainment. 
This year Japan Fair had 76 sellers in the marketplaces and 27 different food trucks.
Food trucks were lined up alongside the perimeter of the event, surrounding visitors with a diverse range of eating options. Japanese foods such as sushi, ramen, yakisoba and taiyaki were all readily available for hungry guests.
Many of these food vendors were local Orange County-based Japanese restaurants. One of these restaurants was Shin-Sen-Gumi, a Fountain Valley restaurant selling their famous yakitori. Yakitori is a grilled skewered meat often served with sauce. 
The fair had Japanese food options available, along with many other Asian cultural foods. One of the most popular food trucks was Luckyball Korean BBQ for their Korean Squid Skewers. Filipino food was represented by Kapamilya Family Restaurant selling Halo-Halo and Lumpia. 
Many vendors sold Japanese clothing items. Traditional clothing items like Hatori and Kimonos were for sale. Casual t-shirts decorated with Kanji phrases were also being sold.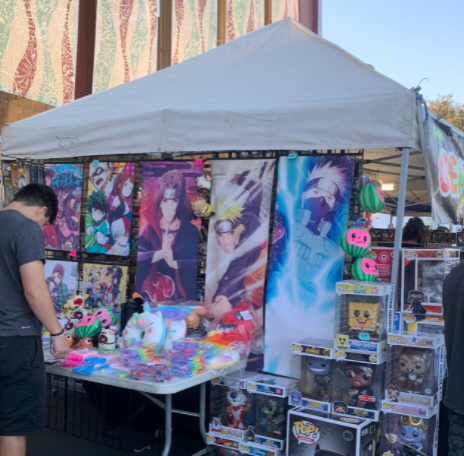 Anime, or Japanese animated work, had its own section on the fairgrounds. Many cosplayers appeared dressed as their favorite characters and flocked to the vendors to purchase merchandise of their favorite show. Anime inspired toys, stickers, patches, pillows and blankets were all being sold and sought after.
One booth sold storybooks of Japanese fables intended for children. One of the storybooks told the story of Maneki-neko or "the lucky cat." It is believed that having a picture or figurine of this cat brings good fortune.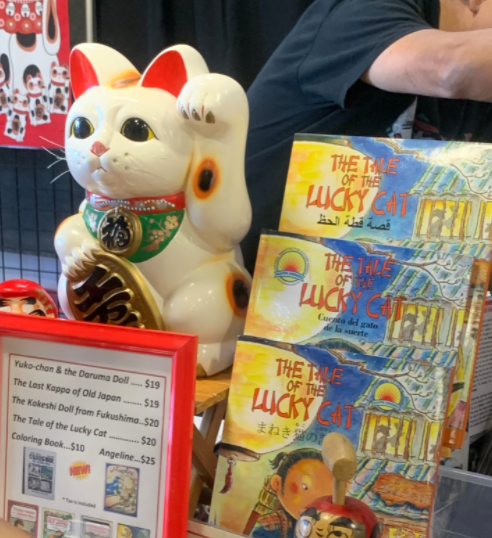 Calligraphy is considered an artform in Japan and plays a huge role in the culture. Kanji phrases such as "zen," "success" and "happiness" were neatly written and being sold.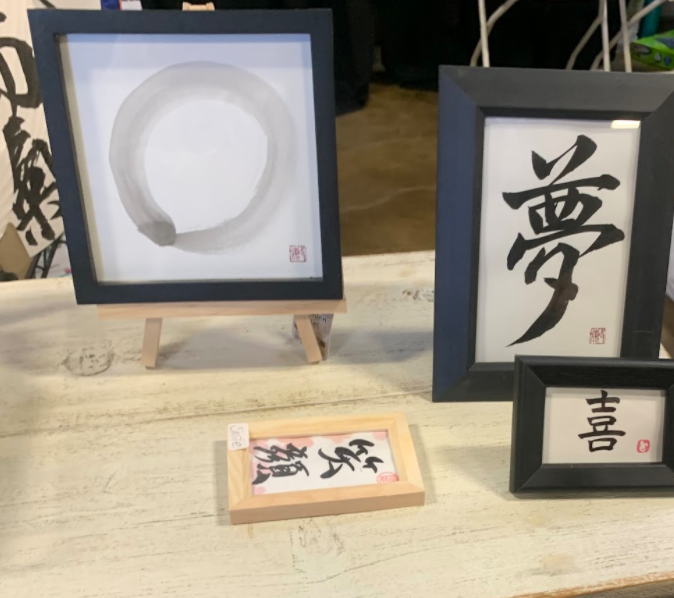 Outside the marketplace and the food trucks, live entertainment was presented on a huge stage at the end of the venue. 
The performances are strategically scheduled in order to appeal to attending audiences. 
"Day and night attract different kinds of people – families with children attend in the day while younger people attend in the nighttime," Taguchi said. 
In the daytime, more traditional performances occur such as kimono shows, tuna cutting performances and Taiko drum performances. At night, performances showcasing modern Japanese culture are exhibited. This includes dance groups and Anime theme song sing-alongs.  
"Japan fair is fun for everyone and something I enjoy hosting," Taguchi said "Sharing my culture, food and music is something I really enjoy."