Contemporary French restaurant Knife Pleat of Costa Mesa received a Michelin Star on Tuesday, after first being recognized in Michelin Guide California with two other Orange County restaurants. 
Knife Pleat is run by restaurateur Yassmin Sarmadi and her husband Chef Tony Esnault. The couple opened the restaurant in July 2019 on the third floor of the South Coast Plaza shopping center.
As part of their Michelin Guide recognition, Knife Pleat earned a Michelin Plate on Sept. 15. The Michelin Plate is a new Michelin award, and Sarmadi expressed the restaurant's gratitude for the honor.
"It's kind of like a 'Bravo! Michelin likes you,' which is fantastic, which is really great," Sarmadi said.
Two weeks later, Michelin awarded Knife Pleat a star, according to the OC Register.
Sarmadi and Esnault put out a joint statement on the restaurant's Instagram page in response to the award.
"We're overjoyed to be recognized with a Michelin Star by @michelinguide, the ultimate standard of excellence in dining," they said in the statement. "Being part of the global community of restaurants held to the same exacting standards is an honor."
Michelin's official Instagram page features a video of California chefs reacting to the news of their awards. The video includes Sarmadi and Esnault sharing a triumphant high-five in Knife Pleat's kitchen.
Sarmadi and Esnault have been in the California culinary scene for a while, having run two successful restaurants in Los Angeles, but Knife Pleat is a little different from what they've done before.
"This is our first time being in a shopping center," Sarmadi said. "I think we're fairly unique in that sense."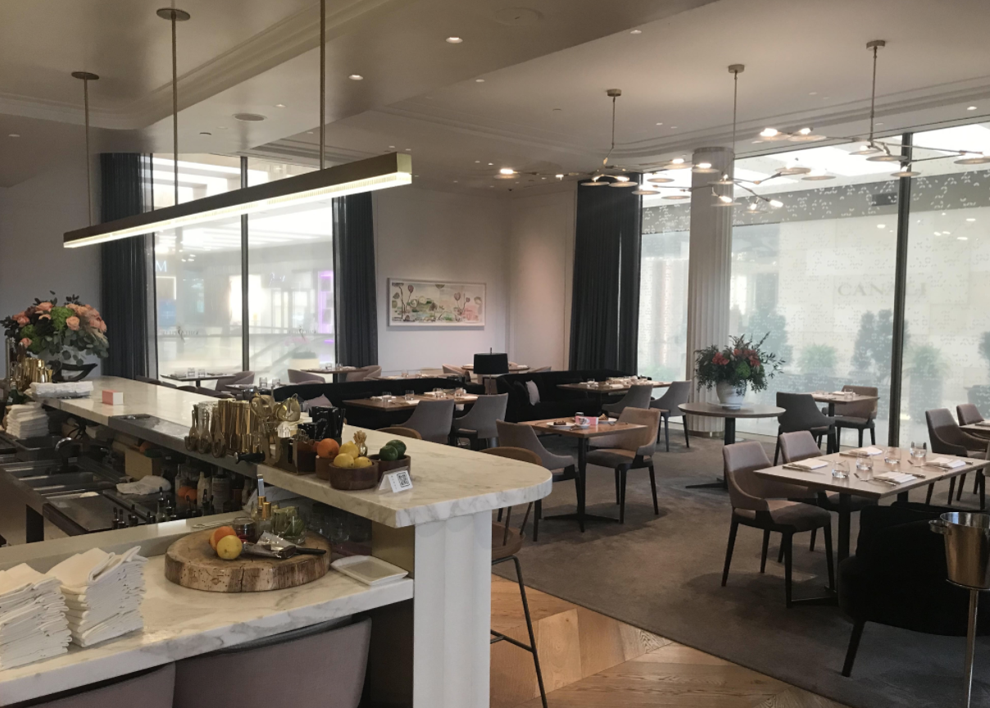 The French restaurant distinguishes itself in other ways, too.
"The full menu changes every two weeks, which is a big ask of the kitchen and of the front of house," Sarmadi said.
Like other fine dining establishments, Knife Pleat used to change its menu seasonally, but the coronavirus pandemic inspired the restaurant to come up with a new approach to its menu.
"When we had been open previously, we had an a la carte menu as well as a tasting menu. And it takes a large team to produce that," Sarmadi said. "When we came back, we had a handful of people. So when we thought, what can we do to stay involved, we said, we can do our tasting menu. We can do it outside."
Every Friday in the South Coast Plaza Bridge of Gardens, Knife Pleat offered a tasting night, where the guests would all order from the same menu and be served at the same time.
"We did that for the entire time the Plaza was closed, and then when we reopened, it had become kind of our thing. And people were looking forward to them coming back," Sarmadi said.
Sarmadi also emphasized that Knife Pleat uses all organic ingredients.
"We're really strict about our animal products being 100% humanely raised. They come from farms where animals are in their natural environment," she said. "We are pretty rigorous about making sure the seafood we use is sustainable."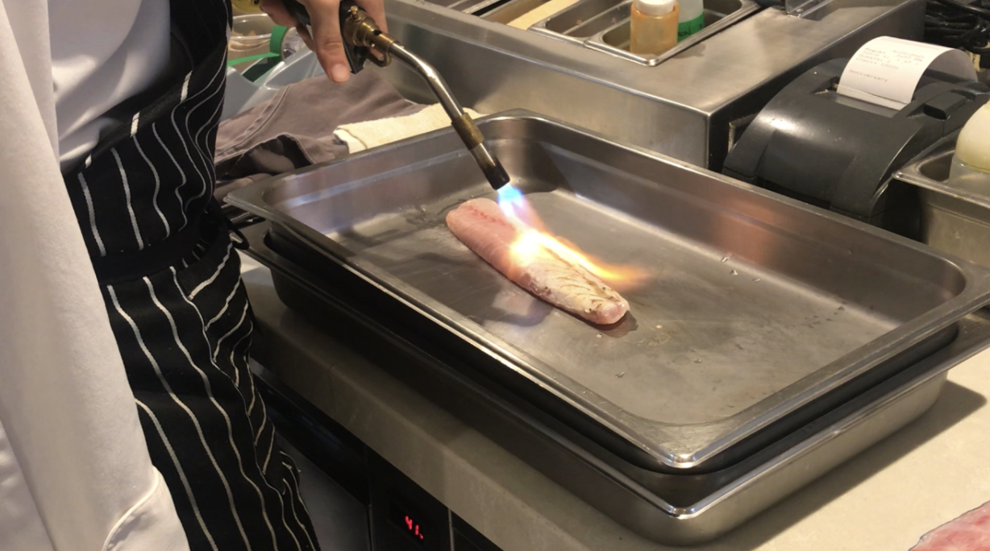 The restaurant has an indoor seating area that seats up to 50 guests and an outdoor patio that seats up to 30 guests. It's hard to see the kitchen from the patio, but the guests inside get a view of the bar and parts of the main kitchen, where staff members prepare appetizers and main courses.
Beyond the main kitchen, staff in the pastry room make breads and elegant desserts, including macarons for guests to take home.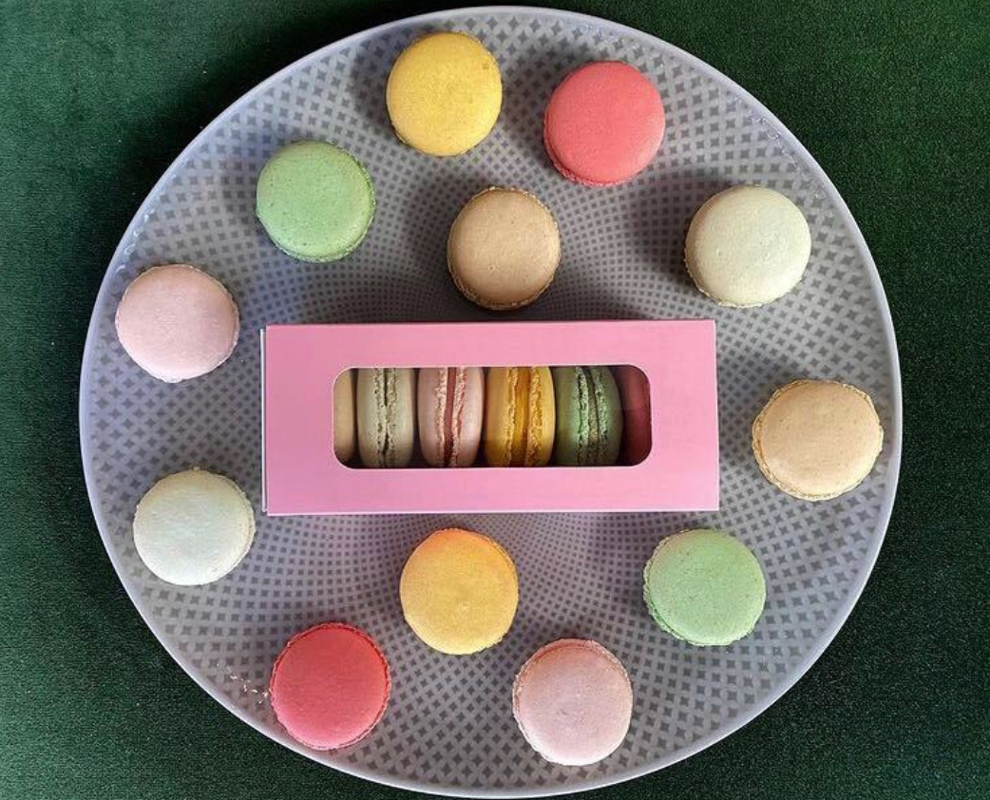 In addition to the Friday night tastings, Knife Pleat is open for lunch Tuesday through Saturday from 11:30 a.m. to 2 p.m. and for dinner Tuesday through Thursday and Saturday from 5:30 p.m. to 8 p.m.
In between service hours, the staff comes together for what they call "family meal," where a kitchen staff member will prepare a meal for everyone.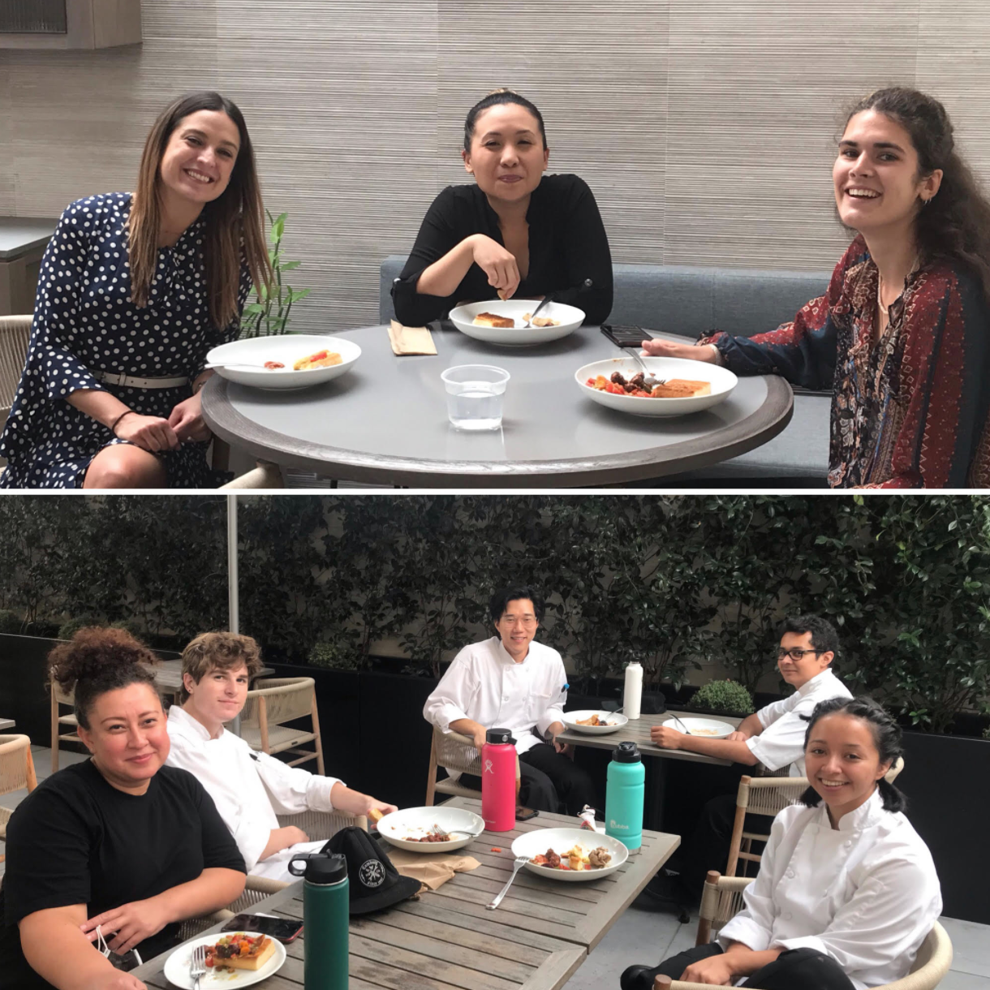 "It gives the new cooks an opportunity to learn something new and kind of showcase their food," restaurant event coordinator Stephanie Salinas Hunter said.
Family meals also allow the kitchen staff and front of house staff to spend time together.
"It's a good bonding experience where we don't necessarily have to talk about work. We get to know each other," Salinas Hunter said.