Inside Orange Coast College's Doyle Arts Pavilion are captivating pieces of art created by Ann Phong, a Vietnamese-American artist who aims to share her immigrant experience and thoughts on the ever-changing world. Her expressive techniques and careful use of colors can be seen at The Doyle until March 23.
Phong is originally from South Vietnam, but after the Vietnam War ended in 1975 and the communist forces expanded their regime, she fled the country for her safety with help from one of her middle school art students. They went separate ways when preparing to leave Saigon, but the student got arrested by the police. After spending three years in prison, the student was able to leave the country and sent a letter to Phong letting her know that she was safe. 
In 1981, Phong immigrated to a refugee camp in Malaysia by sea.
At that time in Vietnam, women were often subjected to rape and abuse at any given moment, and according to Phong, the refugee camps weren't much safer for women. Phong remembers during her time in the Malaysian refugee camp, she saw one of her 11-year-old students from when she was an art teacher in Vietnam. The student hugged her and told Phong that her and her sister had been raped. The student's older sister, who was 13-years old, was sent to the Peace Corps hospital because of how badly and frequently she had been abused.
"Some of my pieces talk about [rape], but it's just too scary to talk about rape," Phong said. "I still don't have the gut to express it 100%."
The artist stressed that rape isn't a Vietnamese specific issue, but one that affects people worldwide. She spoke on how in Afghanistan, Syria and the U.S. women are often silenced and can't speak up about their experiences.
"Being an artist, I feel a release," Phong said. "I can talk for the people that are not fortunate enough to speak up that I can speak up for them. I can feel their pain because I went through those [experiences]."
Every night at the Malaysian refugee camp, Phong witnessed people wandering the beach and crying as they would commit suicide by walking into the ocean and drowning themselves. 
"In a desperate situation when [refugees] escape, when they do something, when they migrate, a lot of things happen, but a lot of times when they happen a lot of people put it under the rug," Phong said. "What can they do?"
After living in Malaysia for a year, Phong transferred to a refugee camp in the Philippines. Having immigrated to various places across the ocean on a small fishing boat, she developed both a deep sense of fear and appreciation for the ocean. She watched many of her fellow refugees die and was in constant fear of pirates and police raiding her boat.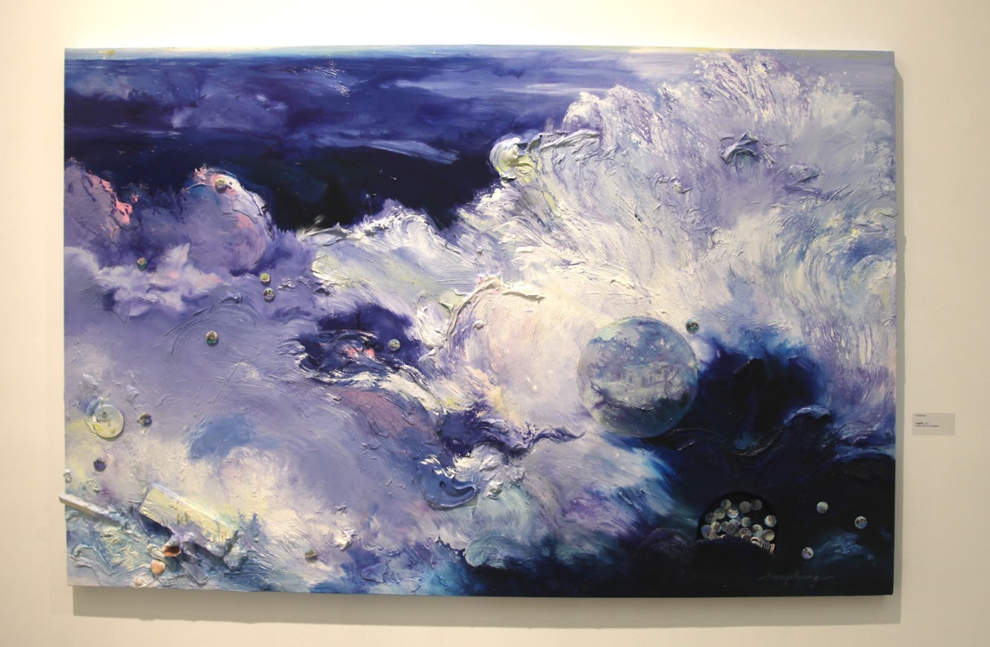 Many of Phong's art pieces contain images of the ocean, since it has played such an important role in her life. Her 2017 painting, "Fragility," is one of many that uses a technique called "impasto." She layers the paint on the canvas with thick brush strokes to create a powerful scene, one that tells a story of ambivalence. While the ocean is a great source of fear for her, it was also her only means of fleeing danger in Vietnam. In the painting are the different fates of those immigrating by sea. Details of people either drowning in the storm or dancing as they safely get to the destination are scattered throughout "Fragility."
"The ocean saved my life," Phong said.
After spending some time in refugee camps, Phong immigrated to the U.S. Although this gave Phong more freedom and opportunities than the communist regime in Vietnam, she still experienced plenty of discrimination and injustice.
Some of her work focuses on these experiences, such as "I Am Not a Virus," from 2021. This self portrait encapsulates her experience being an Asian-American woman in the heat of the pandemic. Anti-Asian hate has been prevalent for centuries, but during that time her daughter felt it was so bad that she did not want her mother going outside in fear of her being attacked. There were many reports of Anti-Asian violence, with the aggressors feeling as though the Asian population was responsible for the pandemic.
"I felt trapped," the artist said.
In her other works, Phong tackles the issue of materialism and the effect it has on the environment. "We Do More Damage Than We Do Good" from 2021, depicts the constant construction of buildings destroying nature and driving animals into extinction. She often critiques the amount of waste humans produce and bury into the earth.
"One day, when we open the Earth, it will all be trash," Phong said.
She incorporates everyday rubbish in many of her paintings bringing focus to environmental destruction to make it more relevant to the audience. It's a growing issue and putting familiar trash such as masks, bottle caps and plastic into her work can help remind viewers of the importance of waste reduction.
Phong's work, along with modern artist Linda White's work, will stay at The Doyle until March 23 for Women's History Month. The Doyle is open Monday through Thursday from 11 a.m. to 5 p.m. and from 12 p.m. to 4 p.m. on the first Saturday of each month. Admission to The Doyle is free.