The pandemic was hard on all small businesses. However, woman- and minority-owned small businesses were disproportionately affected by COVID-19. 
A U.S. House of Congress Small Business Committee report found that Black ownership dropped 41% at the start of the pandemic, by far the largest hit on any racial group. Bloomberg Equality reported that Asian-owned businesses in Southern California were hit especially hard as they received lower rates in government assisted loans in comparison to other ethnic group's businesses. The U.S. Chamber of Commerce conducted a study on the pandemic's effect on small businesses and reported that female-owned businesses were disproportionately affected by the shutdown. Female owners who rated the state of their businesses' condition "very good" fell from 60% to 47% during the shutdown. 
As residents of Southern California, we should all try our best to support our local and minority-owned businesses. Here is a list of coffee shops that you can help support the next time you crave a cup of coffee and a cozy place to study. 
Aosa Coffee
16821 Algonquin St., Ste. 104, Huntington Beach
Located inside the Huntington Harbour Mall, Aosa is a Black-owned coffee shop. Aosa originated as a sustainable fabrication shop when the business first opened in 2014. Even after transitioning its business model to a coffee shop, Aosa's mission stayed the same. 
"We exist to elevate people because elevating one another is the key to sustaining a longer, healthier, happier, and fuller life," said Keyana Hill, the shop's owner.
Aosa continues its sustainable practices as a coffee shop and prides itself as a place where the community can gather to become elevated and inspired. 
Aosa's menu offers many different drink and food options. The business offers six different  types of espresso, ranging from bold to creamy as well as Nitro cold brew on tap. They serve five different types of tea, including Matcha, Chai and Yerba Mate, which is a caffeinated tea. As for coffee, Aosa offers drip, pour over and a house cold brew. 
Aosa's food options are equally intriguing as they sell three different kinds of Acai bowls and three varieties of toast. Aosa offers a new selection of vegan pastries each day.
The interior is spacious and perfect for a place to study. Its tables are spaciously placed to allow social distancing. Aosa also has a patio for those who would prefer to relax outside. 
In response to the shutdown, Aosa began selling "camp-in kits" that include tea or coffee and all the necessary tools needed to become your own barista at home. Even after reopening, Aosa has continued to sell these kits on its website. 
Contra Coffee
115 N Orange St., Orange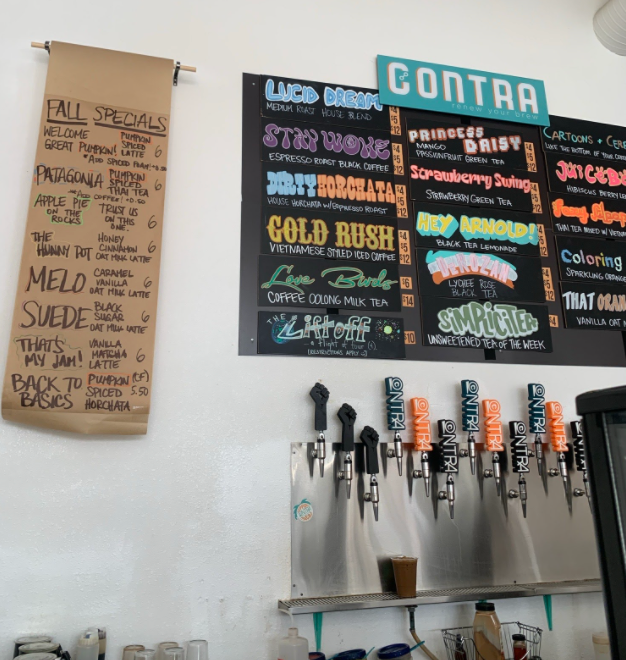 Located in Old Town Orange, Contra Coffee is an Asian- and female-owned business.  
All drinks are brewed in-house and, unlike other coffee shops, are readily available on tap. Having drinks on tap enables the baristas to make drinks more efficiently and results in quicker waiting times. 
Contra prides itself on its experimental flavors for their tea and coffee options. All of their drinks contained a special element elevating their menu's uniqueness. One example of these experimental drinks is their Dirty Horchata, which is their house horchata mixed with espresso  roast. Contra's menu also includes Asian coffee options like Vietnamese coffee and Thai iced tea. Contra also offers an option called The Liftoff that allows customers to sample four drinks. All of Contra's drinks are dairy-free. 
Contra's interior is very spacious, offering plenty of areas to study. Alongside being a coffee shop, Contra also operates as a bookshop. One interior wall is completely covered with books and guests  can read while waiting or enjoying their drinks. 
The Lost Bean
4632 Barranca Parkway, Irvine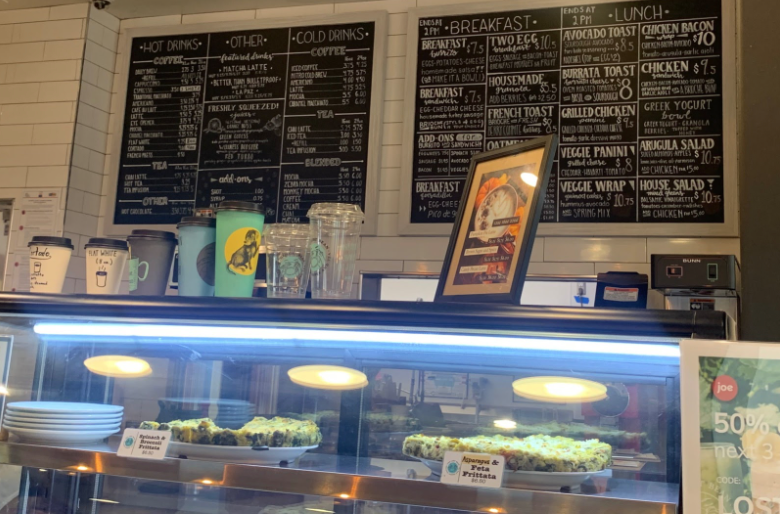 The Lost Bean in Irvine is a coffee shop with a focus on sustainable practices. Its coffee and tea are all organic to ensure, as its website says, "the richest and fullest taste" and are free of any harsh chemicals that would otherwise spoil the flavor. Contra roasts all coffee beans in store in order to reduce their personal carbon footprint. 
All paper products used are made from post-consumer recyclable material. Its cups, while appearing plastic, are actually made from corn and natural oil. These biodegradable cups lessen the amount of plastic pollution for which the coffee industry is unfortunately notorious. 
Along with a variety of food choices, The Lost Bean offers hot, cold and blended coffee. The shop serves breakfast and lunch foods, including six different kinds of quiche, as well as Avocado Toast and French Toast
With the pandemic nearing the end, it may feel as if all things are returning to normal. It's important to not forget all the small businesses that suffered due to lockdown. As a part of the healing process, people should do their part in aiding our community. One way to help is by supporting women- and minority-owned businesses that were disproportionately affected by COVID-19. Next time you're craving a cup of coffee, rather than going to Starbucks, consider a locally-owned coffee shop and supporting small businesses.