Six students from Orange Coast College's fashion department participated in the 2021 Judith Hendler design competition at the Huntington Beach Art Center, along with members of the center and other community college students on May 1. 
OCC fashion student Loren Blackwood walked away with the second place prize. 
This year's exhibition's theme was The Cocoon Cloak, inspired by multifunctional garments such as the tunic, poncho and caftan chosen by Judith Hendler. Every participant in the event used recycled and reusable fabric to generate their designs. 
Hendler, a world renowned jewelry and fashion designer, fully sponsored the event and granted OCC's Media, Events and Promotions class a scholarship along with all community college student winners. She first began making her own jewelry out of acrylic material from plane scraps that were disregarded then brought home from her husband's job.  
"They had tons of scrap. They didn't know what to do with it. At the time, I think I was the art director of Target," Hendler said. 
Hendler uses the same design techniques, including the notion of sustainability, in her pieces to this day. The practice of reuse, recycle and upcycle helped create this year's exhibition theme of the Cocoon Cloak. 
"I think it's really important to recognize the imagination that puts reused materials together in such a creative way," said Kate Hoffman, Executive Director of the Huntington Beach Art Center, during her introductory speech for the awards ceremony. 
The first through third place award winners, along with their handcrafted designs for the 2021 Judith Hendler Cocoon Cloak Exhibition are as follows:
Eleyna Gomez: First Place Winner from Saddleback College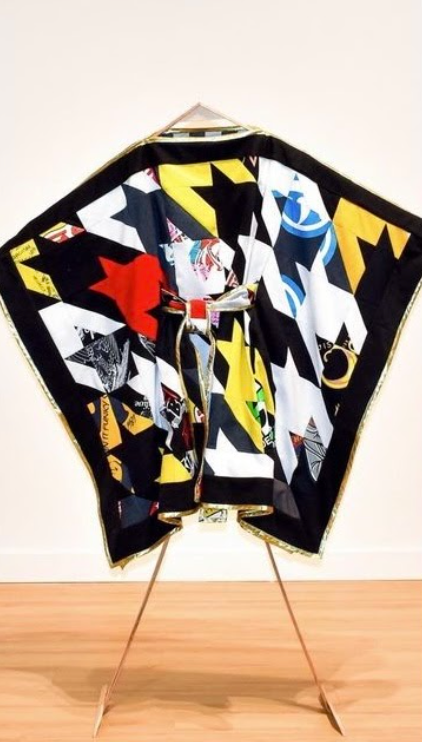 Gomez's winning garment titled, "Tees of Hip-Hop and Houndstooth," was crafted with polyester thread, bias tape, polyester cotton plaid fabric, knit interfacing, and 28 T-shirts. Gomez originally began sewing urban clubwear from promotional tee-shirts she received from a cousin in the music industry, as Gomez mentioned to the HBAC. The cloak was made from thrifted shirts to create the houndstooth pattern. 
Loren Blackwood: Second Place Winner from OCC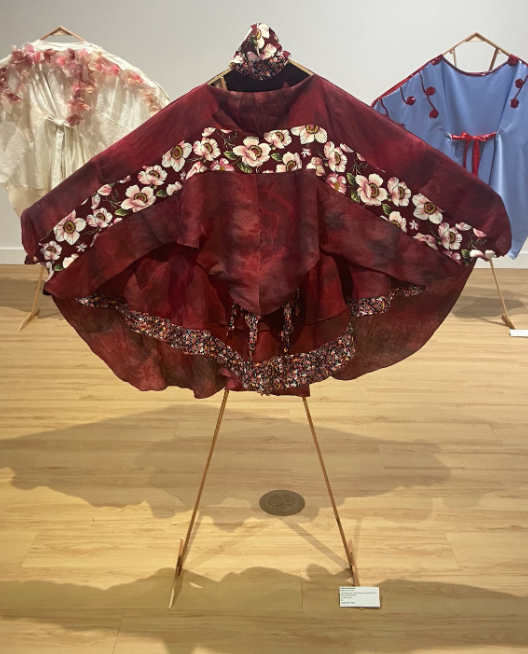 Blackwood's "Myanmar Rose" cloak was inspired by another OCC fashion student from Myanmar named Ki Ki. 
"I saw a picture of her at a protest rally, wearing a traditional outfit from Myanmar, in its red, self-province gorgeousness," Blackwood said.
The cause for Blackwood's creation doesn't only display support for Ki Ki, but draws attention to the basic civil rights violations citizens of Myanmar have been enduring from the country's military. 
"Sustainability for me, involves people on the earth and businesses trying to figure out what we're going to do in the future, because there's conflict. How can we have sustainability when we're saying don't waste things, and continue to do a lot of business?" Blackwood said. 
Blackwood's piece was handcrafted with tie-dyed linen pillow cases, floral fabrics, and different colors of thread over the course of two days. 
"This is my style, to do things that are asymmetrical," said Blackwood.
Sofia Carrillo: Third Place Winner from Palomar College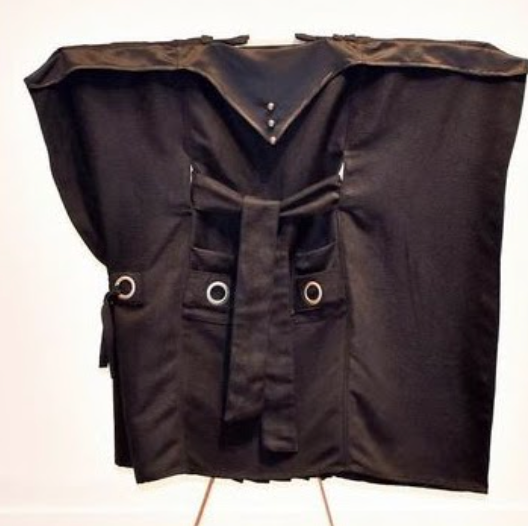 "I have a black blouse with long sleeves and some openings on the arms. When I wear this dress, it makes me feel comfortable, confident and with style. So, I wanted to give this feeling and ideas into my Cocoon Cloak," said Sofia Carrillo on the HBAC webpage for the virtual showing of the event. 
Carrillo's creation, "Shine Again," was made entirely out of polyester curtains. Rings from the curtains were used to add more style to the garment and placed from the top to the wrist section of the cloak. Pockets are also included in Carillo's design, adding functionality to the handmade piece. 
Carmen Arguello, Zach Butner, Imane Gehring, Jessamy Nordstrom and Carmen Olmos from OCC's fashion department also participated in this year's exhibition.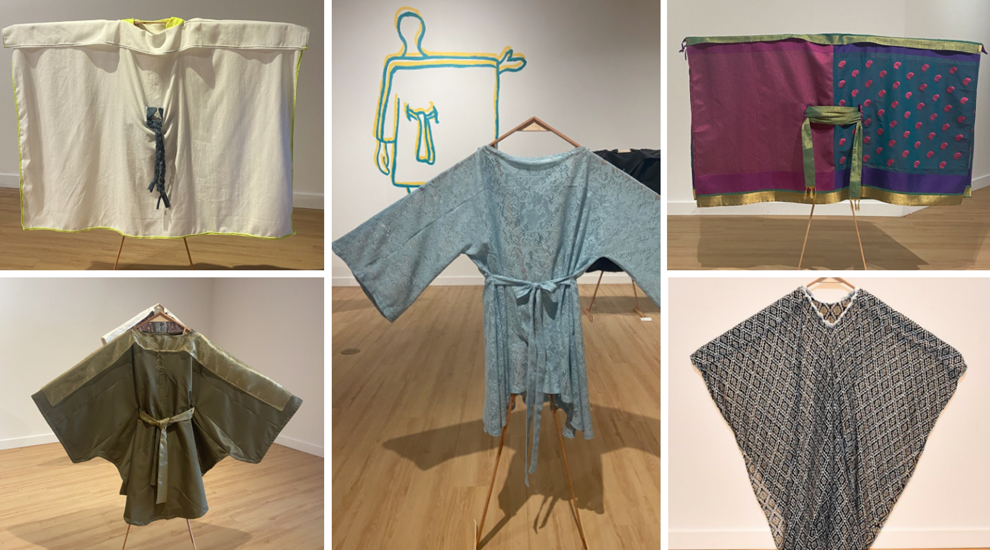 "Now it's a cloak, and it should never end up in the trash. It should be able to be broken down again and redesigned in another way,"  Zach Butner said. 
Butner's cloak, "Kerala," was named after the state along the coast of southern India. The fabric of the design is originally hand loomed in the Kerala HandLoom Palace and made for a women's saree, with no power involved in the process. 
"It used to be one long seven yards of fabric, and that's what their stories are," Butner said. 
The students in OCC's Media, Events, and Promotions class were involved in helping the event take place.
"Our students created the marketing flyers, postcards, and banners. [They] wrote the press release, wrote blog posts on the HBAC website, designed buttons, and signage for the pop-up shop." said Michelle Craner, coordinator of the OCC fashion department.
OCC's fashion brand, Coast Collective, held a pop-up shop during the event. Every item for Coast Collective was donated for the department's fundraiser and were made by OCC students. 
Every participant's cloak will be showcased at the HBAC until June 12, and reservations can be made online, free of cost. 
The HBAC created a virtual showroom on their website that includes every designer's work and details for those interested in viewing. 
"The Cocoon Cloak is a reflection of the pandemic," Craner said. "I am personally hoping that others see in the show that fashion is important to our zeitgeist and reflects the life we live."